Fantasy Football Film Study: Dalvin Cook
Coming into the 2017 fantasy season, Dalvin Cook was a polarizing rookie prospect due to an underwhelming NFL combine. His college production was off the charts as Florida State's all-time leading rusher but the measurables definitely brought some things into question as Cook slid into the 2nd round. His Rookie Profile by fellow writer Cory Evans suggested that Cook still had the goods to make an immediate impact as a fantasy starter. After 4 games, he succumbed to a heart-breaking ACL injury to end his season.
For our Fantasy Football Film Study series, our goal is to evaluate what we see watching every single one of Cook's plays in 2017 and discuss whether his production is something sustainable over an entire season.
Check out where Andy, Mike, and Jason have Dalvin Cook and the rest of the RBs ranked for the 2018 season in the Ultimate Draft Kit.
2017: Fantasy Season in Review
| | | | | | |
| --- | --- | --- | --- | --- | --- |
| Season | Rushing Attempts | Rushing Yards | Rushing TDs | Targets | Opportunities (Rushes + Targets) |
| 2017 (4 games) | 74 | 354 | 2 | 16 | 90 |
| 2017 (16 game pace) | 296 | 1,416 | 8 | 64 | 360 |
Cook's 16 game pace shows the solid output and the immense workload that was coming his way. He was on pace to see 360 total opportunities; that would've ranked behind only Le'Veon Bell (427), Melvin Gordon (367), Todd Gurley (366), and LeSean McCoy (364) and frankly a mere stone's throw away from those last 3. In 0.5 point scoring, he would've finished as the RB9 and that's without projecting any receiving TDs.
Volume certainly was king in those first 4 weeks as Cook looked like a bonafide fantasy stud before his unfortunate ACL injury. Before we get too worked up on projections, let's see what he laid down on film. Normally, we would give a brief overview of the highlights and major themes from watching the tape. However, with only 4 games to view, we can be more specific with Cook's film evaluation.
What's On Tape
Week 1 vs. NO
-For the first half, Cook was routinely met in the backfield by Cam Jordan and Co. The Vikings eventually found success pounding the ball inside. Cook showed a no-nonsense approach. Despite 22 yards on 8 carries in the first half, he honestly had little running room.
-The Vikings began to excel on zone-stretch plays. In the 3rd quarter, Cook had a 32-yard run with a pulling guard to the right out of the shotgun. He also finished with a 33-yard gain on his final run of the night to set the Vikings rookie RB record for yards with 127 yards on the ground. In terms of the passing game, Bradford targeted Cook 5 times with little success and little variety apart from a basic arrow route.
Week 2 @ PIT
-Of his 15 opportunities, 12 came out of the shotgun as the Vikings got behind early and had to play catch up in Pittsburgh. This was a stark contrast from Week 1 in which his most valuable runs came lining up behind Sam Bradford, who bowed out of this game due to injury. Clearly, the Vikings did not maintain any sort of rhythm in Case Keenum's first game being adjusted as the starter.
-Midway through the 1st quarter and up until halftime, Cook had some tough sledding seeing carries for -4, 1, 1, 1,  and -3. In fact, Jerick McKinnon and Latavius Murray combined saw as many touches as Cook after he dominated the committee in Week 1.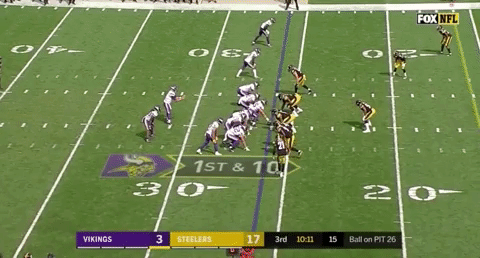 -In the 3rd quarter while down 17-3, the Vikings gained some momentum on a stop-and-go 21-yard acrobatic catch from Stefon Diggs. On the very next play, Cook took a zone run and bounced it outside to the edge and eventually juked out veteran safety Mike Mitchell before being tripped up into the end-zone. The apparent TD was overturned and, unfortunately, on the next play FB C.J. Ham vultured the score.
-Cook was called on to pass block on 7 plays, his most of the season. His 15 opportunities were the lowest  but game flow dictated that OC Pat Shurmur couldn't feed his rookie the rock 20+ times in this game. If you give him the TD from the run shown above (which it seemed like he was in), Cook would've been tied with Le'Veon Bell, averaging 15.1 standard fantasy points per contest through those 1st 4 games.
Week 3 vs. TB
-The final stat line (27 rushes for 97 yards, 1 rushing TD and 5 catches for 72 yards) fails to do justice about how dominant Cook and the Vikings offensive line was in this one. Cook was used as a battering ram over and over.
-He had 82 yards after contact and I counted 6 missed tackles on the day. His 26-yard run up the middle in the 3rd quarter was a thing of beauty as he shed two defenders and dragged safety T.J. Ward another 5 yards to get the Vikings into field goal position. PFF gave Cook an elusive rating of 84.4, the 3rd best behind only Kareem Hunt's astronomical game and Jordan Howard that week.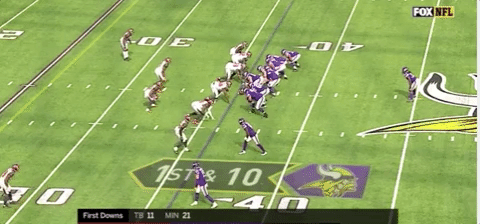 Week 4 vs. DET
-I was impressed to see the Vikings go to a double-TE set as Case Keenum struggled in the 1st half. They basically said "let's ride this rookie" and see if the Lions could stop their power running game. Cook was decisive and able to set up his blockers at the line of scrimmage with better-than-average vision. He looked tough to bring down.
-On the flip side, he was not asked to pass block once in this one. He also dropped a target in the 2nd quarter as he heard the footsteps on a dump-off pass.
-Cook's final run of the season came when tried to cut in the open field, suffered his non-contact ACL injury, and fumbled the ball away. After watching the film, there was nothing to suggest Cook had any specific problem before this occurred. Just a freak injury at the wrong time. However, Cook's expression and words were a tell he knew he messed his knee up big-time.
What's Not On Tape
-Cook showcases an all-around game so it's tough to nitpick here. However, he's not a speed merchant by any means and did benefit from some well-designed plays that allowed him to get to the edge, not of his own. His issues in college were ball security (13 fumbles) and a propensity for bouncing it outside. He did take care of the football despite seeing insane volume.
-In terms of the passing game, Cook was mostly utilized as a safety valve. There were a few arrow routes out of the backfield but I'd love for the Vikings to develop a screen game used out of play action with Cook. McKinnon is an unrestricted free-agent so there seems to be little competition for targets out of the backfield. He needs to clean up some of his footwork but Cook's college tape reveals he knows how to catch the football.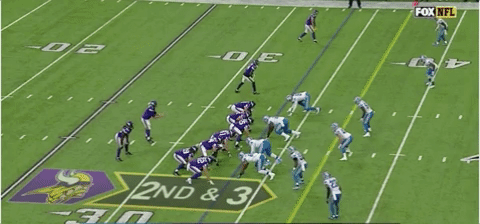 -The pass blocking is a small bit of a concern as it seemed like the Vikings gave the rookie less assignments than what you'd expect from a 3-down back. He should develop this in time as he has the frame and body for it.
-Of his 74 rushing attempts, 10 were inside the red zone. To compare, teammate Latavius Murray saw 47 such attempts, roughly the same percentage (21%) as Cook. We just didn't have enough tape to see what type of runner he is near the goal-line.
Projecting 2018
Cook is currently being drafted at the end of the first round according to FantasyFootballCalculator.com as the 9th RB off the board. His tape suggests that Minnesota drafted themselves a genuine 3-down workhorse with little competition in the backfield besides Latavius Murray, who is available for the occasional breather. Minnesota ran the 2nd most running plays (502) in the league and that type of play-calling shouldn't change much for a team that wins mostly with defense. According to general manager Rick Spielman, he's resumed jogging, on schedule to return and is quoted as saying "we don't see any reason where he's not going to be where Adrian Peterson was when he came off his knee [injury]."