Fantasy Football: Don't Sleep on Mike Evans in 2019
The NFL may be in the midst of a golden era for wide receivers. DeAndre Hopkins literally did not drop a pass in 2018. Davante Adams is locked in with Hall of Famer Aaron Rodgers. Michael Thomas set an NFL record by catching 85% of his 147 targets last season. Odell Beckham Jr. just teamed up with Baker Mayfield in Cleveland. Amid all these elite wide receiver discussions, Mike Evans is too often left out of the conversation.
Nobody who owned Mike Evans in 2018 is complaining, but his fantasy stock isn't exactly skyrocketing either. His ADP currently has him as the ninth receiver off the board at pick 2.09, down four spots from a month ago.
For some reason, Evans is being treated like the consolation prize of receivers for fantasy football, the one you reluctantly draft when all the guys you really wanted are gone. Yet he's just 25 years old and only two seasons removed from finishing as the WR2 in 2016. Why does he seem like such an afterthought?
2018 Season in Review
Evans produced the second-best fantasy output of his career in 2018, setting career highs in yards (1,524), yards per catch (17.7), and catch percentage (62.3%). Even with these big numbers, he didn't always perform like a WR1. As Andy, Mike, and Jason detailed in the TRUTH About Fantasy WRs in 2018, he was only great 19% of the time and busted 13% of the time. Despite finishing as the WR8 for the season, he was only ranked 11th when it came to consistency.
Explaining the Duds
So why did Evans post so many duds? For starters, it's hard to be consistent as a receiver when you don't have consistency at the quarterback position. Take a look at how the quarterback stats stacked up between Ryan Fitzpatrick and Jameis Winston in 2018.
[lptw_table id="159243″ style="default"]
It's also important to note that those games started weren't consecutive for either quarterback. Evans was dealing with an unstable starting quarterback for the majority of the season.
Now let's look closer at some of those duds. His Week 4 flop came in Tampa Bay's debacle against the Bears that saw Fitzpatrick get benched for the first time mid-game in favor of Winston. His Week 6 stinker against Atlanta included an uncharacteristic fumble. His Week 9 no-show saw him catch just 1-of-10 targets, including many uncatchable balls like the interception below.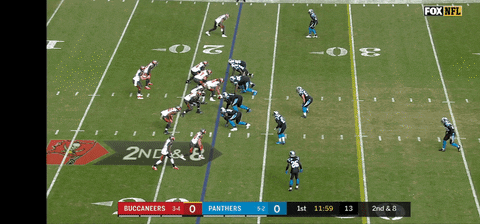 His Week 10 disaster would've been 6.7 points higher if he could have reeled in this errant pass from Fitzpatrick when he was wide open in the end zone.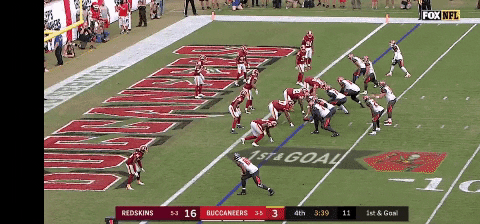 The point is that while things like this regularly happen in the NFL, these circumstances certainly contributed to Evans' 2018 duds. A few positive breaks and his season would've looked far more consistent.
The New Look Buccaneers
After a year away from the NFL, Bruce Arians is returning to coach the Buccaneers. The Kangol wearing, two-time NFL coach of the year brings his "no risk it, no biscuit" play calling to Tampa Bay. He has a history of getting the most out of his receivers. In Pittsburgh, he was the receiver coach and offensive coordinator that featured Hines Ward and molded a young Antonio Brown. His one year in Indianapolis saw him feed Reggie Wayne career-highs in targets and receptions. Larry Fitgerald averaged 138.8 targets per season under Arians, and he even got three solid seasons out of Michael Floyd. The "no risk it, no biscuit" Arians offense could allow Evans to feast on fantasy points.
With Fitzpatrick taking his Fitzmagic to South Beach, it's safe to say that Jameis Winston is no longer on a short leash. He'll get every chance to prove he's the long-term quarterback in this, his contract season. He's been known for his questionable decision making both on and off the field, but there's hope that Arians can reign in the talented QB and maximize his skill set.  
The hype may also be building for Chris Godwin and O.J. Howard, but nobody will dispute that Evans is the number one option in the passing game. It remains to be seen who leads the Bucs backfield, but it's worth noting that Arians doesn't exactly have a history of producing top-level running backs. Yes, he oversaw David Johnson's huge RB1 season in 2016, but the list of season leading rushers on Arians-coached offenses also includes the likes of Willie Parker, Vick Ballard, and Andre Ellington. There's every reason to believe that Evans will be the star of this offense.
There's a World Where Mike Evans is the WR1
Just one more touchdown in 2018 would have bumped Evans up to the WR6. Four more would have made him the WR2, just 7.1 points behind Tyreek Hill. Those theoretical four additional touchdowns would've put him at 12 for the season, a mark that he's already hit twice in his five-year career.
He'll barely be 26 years old when the 2019 season kicks off, just entering prime wide receiver years. It wasn't that long ago that he finished as the WR2 in 2016, the last time Winston started all 16 games for Tampa Bay. Evans has top-three fantasy receiver potential, and it's within the realm of possibilities that he finishes as the WR1 in 2019.