Fantasy Football: 10 Lessons Learned in Week 9
We've made it to the other side of the Byepocalypse (with eight teams still left over Weeks 10 and 11) and are starting to turn towards the fantasy playoffs. As we enter the final third of the season, some of our most pressing questions have been finally answered. The Rams and Jaguars are really this good. The Bucs and Falcons are really this bad. Dak Prescott and Carson Wentz are truly elite (this one was answered a while back).
And yet, some questions still need answering. Is Kareem Hunt as good as he was to start the season, or has he diminished into an RB2? What we can expect from guys like DeAndre Hopkins, Demaryius Thomas, and Jordy Nelson now that they're reduced to working with dismal backup QBs. Is Cam Newton back to fantasy stardom with his rediscovered rushing prowess?
Fortunately, we've got 10 lessons learned in Week 10 to help advise those critical playoff-push roster moves. Without further ado, let's dive into the fantasy classroom.
Forte is pushing 32 years old, and playing in his tenth NFL season, but he continues to produce for the Jets and for fantasy owners. In a handily secured victory over the Bills, Forte rushed 14 times for 77 yards and two touchdowns and added 19 yards on four receptions. He handled 32 snaps to Elijah McGuire's 20 and Bilal Powell's 15 and drew almost the entirety of the targets to the position. The performance marked Forte's fourth straight game with at least 52 total yards and four catches. The Jets alternate easy and tough RB matchups over the remainder of the season, but Forte's high target share make him nearly matchup-proof. He's a low-end RB2 in PPR leagues and could be even better if given more of the workload.
2. Robert Woods Is Soaring (Under the Radar)
Believe it or not, Robert Woods has hit 53 or more receiving yards in six of eight games this season. After a four catch, 70-yard, two-TD performance on Sunday, he's averaging 4.8 catches and 66 yards over his last four contests. The pair of scores ended a season-long drought for Woods and make him a WR2 over this four-week stretch. With Sammy Watkins relegated to one huge catch per game at best, and Cooper Kupp serving mostly as a red-zone tool, Woods now leads the team in targets, receptions, and receiving yards. Considering the potency of this offense, that's an asset worth owning — and he's highly available in most leagues.
3. Jacksonville Is Straight Obsessed With the Run
In Week 9, the Jaguars made an example of Leonard Fournette and benched him for slacking on team activities. It didn't matter. They still rushed the ball 40 times for a total of 149 yards against a staunch Bengals front. JAX leads the league comfortably in rush attempts per game (35.4) and rushing yards per game (166.5). While Ivory and Yeldon were primarily responsible for the damage on Sunday — and should be owned as valuable handcuffs — this lesson is really about Leonard Fournette. Combine this commitment to the run game with Fournette's talent and (hopefully) an improved dedication to the team and you're looking at a likely top four RB rest of season. Outside of Le'Veon Bell, Todd Gurley, and an unsuspended Ezekiel Elliott, Fournette may the best combination of floor and ceiling in fantasy.
4. The Denver Offense Is a Fantasy Dead Zone
When the season first started, it almost looked like Trevor Siemian could pilot a respectable offensive effort for the Broncos. Sadly, that plane crashed back in Week 8. In Week 9, a resurrected Brock Osweiler looked much more zombie than savior, raising questions of potentially turning to Paxton Lynch in the coming weeks. Whoever it is under center in Denver, the outlook for the entire offense is bleak at best. Devontae Booker, C.J. Anderson, and Jamaal Charles split carries on Sunday and averaged 1.8 yards per carry on their way to 35 yards total. Demaryius Thomas managed 70 yards and a garbage-time touchdown, offering a glimmer of hope for the former star WR1, but that figures to be his ceiling moving forward. It's impossible to sell these guys and you can't drop DThom, so my best advice is just to minimize your Denver starts, even against the Patriots next week.
5. Jay Ajayi Has a Bright Future in Philly
It's true, almost the entirety of Ajayi's fantasy production came on one 46-yard touchdown run. But with that said, he did out-snap LeGarrette Blount (17 to 16) and had only one less carry (8), though both fell short of Corey Clement's 28 snaps and 12 carries. Additionally, that one play was Ajayi's best run of the season and first touchdown, forming a small but convincing sample of the boost in efficiency he will see in Philadelphia. Most important of all, this came in his first game with the team, after less than a week of preparation. There are still enough weapons in this backfield to keep Ajayi from high-end RB1 status (similar to the mess in New England), but the newest Eagle should be a solid RB2 as he adjusts to his new team.
6. Ajayi's Backups Filled In Just Fine
Speaking of Jay Ajayi, my goodness did we see some fireworks from his replacements in Miami. The tandem of Kenyan Drake and Damien Williams scorched the Raiders both rushing and receiving — though that may not be saying too much considering Oakland's defensive struggles. Drake had nine carries for 69 yards and six receptions for 35 yards, while Williams had only 14 yards on seven carries but racked up 47 yards and a touchdown on six catches. The lesson learned here is somewhat limited, as it's tough to identify which back is better for fantasy. Looking at their schedule, I'm inclined to lean towards Williams as the more likely receiving back in several games where Miami will need to throw. But both are worth a grab until things shake out a little more.
7. DeAndre Hopkins Is a Prime Sell-High Guy
I know this take might be a bit controversial, as Hopkins has been nigh unstoppable this season. Moreover, he saw a whopping 16 targets Sunday against the Colts and did bring down six of them for 86 yards and a touchdown. Here's my concern: Hopkins saw a whopping 16 targets against an awful Colts secondary (without Vontae Davis) and only managed six catches and a garbage-time touchdown. It's all in the perspective people. This was about as ideal as a Tom Savage game could be for Hopkins and he peaked at 86 yards on a 38% catch rate. Hopkins has a slew of tougher corners on the horizon (including Trumaine Johnson next week in LA) and I will predict he will not reach 20 PPR fantasy points again this year. Use the fortunately productive week to sell Hopkins before his price plummets.
8. SuperCam Is Back in Business
Don't get me wrong, Cam's passing is still a mess. He is nowhere near his 2015 MVP self and I don't expect No. 1 numbers moving forward. But the man is running again, and it's a joy to watch.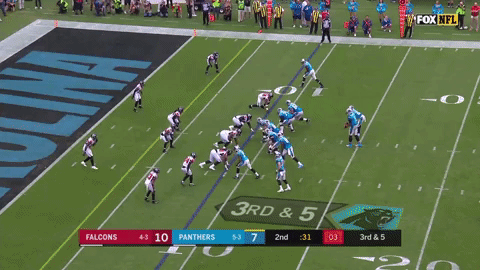 Cam gashed the Falcons for 86 rushing yards on nine attempts Sunday and proceeded to dunk this high-flying TD on Desmond Trufant's head. It marked Newton's highest rushing total of the season and his fourth game of at least 44 rushing yards over the past five weeks. Though the Panthers tried to restrict his rushing coming into the season, Cam said it best, "You going to expect a lion not to roar." As long as he stays healthy, Cam can continue roaring his way to QB1 numbers, regardless of how bad the air attack looks.
Even before San Francisco saw it's pass-catching corps decimated by injuries (Pierre Garcon on IR, Trent Taylor and George Kittle injured in Week 9), Hyde was excelling as a receiver in Mike Shanahan's system. Now, it's not even worth pretending — Hyde is the guy in the passing game. He snagged nine catches on 11 targets for 84 yards on Sunday (all team highs), bringing in passes on WR routes and picking up solid yards after the catch. It was the third week in a row that Hyde has led or co-led the team in targets (tied Marquise Goodwin with eight in Week 7). Even with Matt Brieda supposedly nipping at his heels, Hyde is a PPR stud rest of season and carries top six or eight potential.
If you listen to the podcast, you now know the list of things that can tackle Ameer Abdullah includes Jimmy Carter and a crumpled piece of paper. He may be the worst exception we've seen to the "starting NFL RBs must be owned" rule. Abdullah received 21 carries on Monday night, a workhorse volume by any measure, and still only managed 48 yards and a fortunate four-yard score. Abdullah is averaging an atrocious 3.4 yards per carry, and Monday's TD is only his second of the season. Guys ahead of Abdullah in PPR scoring this year include backup Chris Ivory, once-upon-a-time Tarik Cohen, and rookie super-bust Joe Mixon. The Lions are going to get it done through the air, reducing Abdullah and nonexistent upside to RB3 territory at best.