Fantasy Football: 10 Lessons Learned in Week 8
If we restricted this article to the single contest between the Seattle Seahawks and Houston Texans, we could probably still come away with 10 healthy fantasy lessons. I mean, holy mackerel. Five of the top 10 fantasy scorers on the week played in this game (Russell Wilson, Deshaun Watson, DeAndre Hopkins, Will Fuller V, Paul Richardson), there was a total of 79 points scored, and the 'Hawks managed to pull off the victory despite only 33 yards rushing on the day (30 by Wilson).
Elsewhere in the league, the previously stagnant Ravens put up 40 points on the hapless Dolphins, while the vaunted Buccaneers offense only managed a single field goal at home against the Panthers. Isaiah Crowell was the No. 6 RB on the week with 15.8 non-PPR fantasy points but won't make the list below until he shows it again. And all the while, real-world NFL teams are pulling fantasy-level trades left and right, with Jimmy Garropolo, Jay Ajayi, and a couple defensive superstars changing teams before the Tuesday trade deadline. With all this and more to tackle, let's cut to the chase and break down the 10 lessons learned in Week 8.
1. Alex Collins Wears Rocket Boosters in His Cleats
If you haven't gotten a chance to watch Alex Collins run, you've been missing out. Just about every time he touches the ball, Collins bursts through the line at breakneck speed for a positive gain. On his best run of the night against Miami, the second-year pro was past his blockers and into the second level before even the cameraman knew what had happened.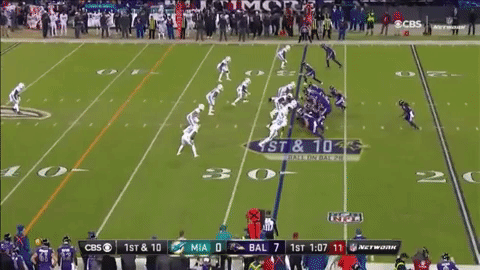 It was no coincidence that the Ravens offense had their best game of the year when handing Collins a major workload (18 carries, two receptions), as he has been the most efficient and explosive player on the team. With his 113 rushing yards Thursday, Collins brought his yards per carry to a crispy 6.0, best in the league for any back over 15 rushes. The Ravens would be wise to feature Collins moving forward and fantasy owners would be wise to roster him wherever possible.
2. Jack Doyle's Hands Grew Three Sizes That Day
To the chagrin of certain fantasy podcast personalities, Baby Hands Jack Doyle is no more after Week 8. Those full-sized mitts brought in 12 of 14 targets on Sunday for 121 yards and a sweet, climb-the-ladder touchdown. That gives Doyle four straight games of five or more receptions and makes him — wait for it — the TE5 in PPR leagues. His 42 receptions on the year trail only Travis Kelce (44) and Zach Ertz (43), and both have played one more game than Doyle to date. In this junkyard of a fantasy tight end landscape, Doyle is a well-maintained 2010 Civic with new brakes — in other words, he's not as flashy as the Big Three, but he's as dependable as they come.
3. Ted Ginn Is Relevant … Again
Was that a stretch? Maybe. But so is calling Ginn a WR2 — which he technically is. After hauling in two receptions for 68 yards against the Bears, Ginn is the WR23 in non-PPR scoring on a per game basis. Obviously, Ginn has not been the most reliable fantasy option over the years, as he typically makes his living on the deep ball. The thing is, Drew Brees' pinpoint accuracy is making those deep balls much more consistent for his new receiver. Ginn's catch rate this season (77.4%) is nearly 26 percentage points above his previous career average, and it's paid off in the box scores. Ginn now has at least 68 yards and/or a touchdown in four of his last five games. Until further notice, he's worth a weekly look in your FLEX, especially during the last few bye weeks.
4. Joe Mixon Is the Biggest Rookie RB Bust
"But Matt," you say, "didn't he just rack up 91 receiving yards on his way to double-digit PPR fantasy points?" True, I won't deny it. But he also lost a poor fumble on one of this three receptions and mustered a pitiful 18 rushing yards on 11 carries. All against the Colts. Not all of it is on Mixon — little, in fact — as his volume has been inconsistent under head coach Marvin Lewis and the Bengals struggling offense and offensive line woes are severely restricting the rookie's opportunities. But these were the dangers coming in. For those of you still waiting on Mixon — current RB31 in PPR — to put together a consistent fantasy campaign, good luck.
When Quincy Enunwa suffered a season-ending injury in the preseason, Robby Anderson suddenly assumed the prospective WR1 role in New York. With that opportunity came some cautious optimism for fantasy value late in drafts. Anderson has had an up-and-down season but is currently enjoying the peak of a solid upswing coming out of Week 8. The sophomore WR caught six balls for 104 yards and a touchdown against the Falcons, beating Desmond Trufant handily on the TD and making a stellar 32-yard grab in excellent coverage later in the game. Anderson is riding Josh McCown's surprising effectiveness to fantasy success, with at least 7.6 non-PPR fantasy points in three straight games and a WR19 rank in that format on the season. He is severely under-owned coming out of this performance, but will not be after waivers process this week. Be the guy or gal to grab him if you can
Despite being three years into his career, former first-overall draft pick Jameis Winston is still struggling with poor mistakes and inconsistent QB play. Against the Panthers this week, Winston threw two ugly interceptions, one from inside a collapsing pocket and another that literally hit linebacker Luke Kuechly right in the numbers. That brings his total to six picks in seven games, to go along with a league-leading eight fumbles (though he's only lost two). Taking his Week 6 shoulder-sprain game out of the picture, Sunday's 212 yards were Winston's lowest since Week 1 and his only full game without a touchdown. If he can correct the errors, Winston's high number of attempts can still translate to fantasy value, but for now, he's outside the QB1 territory.
7. LeSean McCoy Belongs In the Elite Tier
With Kareem Hunt returning to earth and Ezekiel Elliott locked back into his six-game suspension (for now), the top of the RB class in fantasy is not as unattainable as it once was. Apparently, LeSean McCoy got the news and is hell-bent on joining the ranks. He absolutely demolished the Raiders, with 151 yards and a brilliant touchdown on 27 carries and 22 yards receiving on six catches. His absolute explosion of a 48-yard TD run showcased the youth left in his 29-year-old legs and his impressive volume in the passing game currently has him third in RB receptions (38), ahead of Le'Veon Bell (35). Moreover, McCoy has a juicy slate of matchups on the horizon, including six games against bottom-eight defenses (Jets, Chargers, Chiefs, Patriots twice, and Colts). Consider in the mix for top-five moving forward.
8. Crowder Finally Brings Life to Redskins WR Corps
We've been waiting for a breakout game from one of these guys all year and Jamison Crowder finally delivered on Sunday against the Cowboys. Crowder was targeted 13 times in the game and came down with nine catches for 123 yards (adding 12 rushing yards on two attempts). While Josh Doctson did have one reception for a 1-yard touchdown, neither he nor Terrelle Pryor has stepped up for Washington, and Ryan Grant is just a guy. Crowder did have an excellent connection with Kirk Cousins last season, so hopefully, the pair finally clicked in Week 8. The schedule makes things tough for Crowder in the near-term, but he's back on the high-end WR3 radar.
9. Marvin Jones Jr. Becoming Key to DET Offense
In his first season with the Lions last year, Jones had an incredible start before sputtering out before midseason. In 2017, he is running that tape in reverse. Sunday marked his third straight game with six catches and his fourth straight game with an increased yardage total (128 in Week 8). Despite starting the season off the fantasy radar, Jones has worked his way into WR3 territory overall and is playing another tier higher at the moment. With 224 yards and a touchdown over his last two contests, and a couple of sweet matchups coming up in Green Bay and Cleveland, trade for Jones now and expect WR2 production in the near term.
Booker's performance on Monday night was nothing to write home about, but it does indicate his potential value in case of a C.J. Anderson injury. Booker carried the ball six times (two less than Jamaal Charles) but rushed for 40 yards (6.7 yards per carry to Charles' 4.9) and took a goal-line carry from the 6-yard-line in for a touchdown. He also pulled in three catches for 14 yards and continues to get work in the passing game. Should Anderson go down — and his injury is history is less than spotless — Booker would likely see the majority of carries and catches, with Charles working in as a change of pace. As the guys will tell you, now is the time to stash high-upside RB handcuffs from around the league in the hopes of striking it rich when the fantasy playoffs roll around. Booker could be one of the diamonds trapped in a lump of depth chart coal.