Fantasy Football: 10 Lessons Learned in Week 3
It was a good week for redemption stories, especially if you own Jordan Howard (see below), DeMarco Murray, Russell Wilson, A.J. Green, Brandin Cooks, etc. Many of the two-week duds we've been tearing our hair out over rebounded in Week 3 (yes, even Andy Dalton), granting some hope for the future. Of course, there still remains a smattering of letdown players across the league, including Terrelle Pryor (see below), Isaiah Crowell, Cam Newton, and others.
With just enough data under our belts to start seeing some trends, and a whole lot of season left to go, this is crunch time for Lessons Learned. The fantasy nuggets we can glean from Week 3 might help write the roadmap to reversing an 0-3 start or turning a 3-0 team into guaranteed championship material. So without further ado, let's hit the fantasy classroom yet again.
1. The Case Against Terrelle Pryor is Very Nearly Closed
Back in August, I made a compelling case against Terrelle Pryor and his fantasy hype in Washington. While it may look a bit biased to announce a verdict so soon, the numbers (and tape) don't lie. Through three games, Pryor has 10 catches on 19 targets, for 110 yards and no touchdowns. He has the fifth-highest drop rate in the league according to Pro Football Focus, continuing a trend we identified in the preseason. The Redskins have shown a proclivity to run the ball and play defense, and when they do pass, Cousins is spreading the ball around. In Week 3, with a great matchup and Jordan Reed sidelined, Pryor had four targets, two catches, and 19 yards. It will be tough to sell him at this point, and he can't be dropped, so owners are in a bit of a pickle. But he certainly doesn't look like the superstar many expected.
2. Jordan Howard is One Tough Cookie
Jordan Howard came into Sunday's game dealing with a sprained AC joint in his shoulder. It was clearly a source of discomfort, causing Howard to exit the game multiple times and intentionally avoid contact to the injured shoulder at the end of runs.
Apparently, that didn't matter much. Howard piled up 164 total yards and two touchdowns through four quarters and overtime, including a game-winning 19-yard gallop to the end zone. If a strong Steelers squad, the emergence of Tarik Cohen, and an injured shoulder can't stop Howard, I'm not sure what will. After a slow start, Howard's Week 3 breakout should return him to high-end RB2 contention.
3. Jamaal Charles is Still Good at Football
Charles had looked good through a preseason outing and the first two weeks of the season, but Week 3 has him popping up in waiver wire columns everywhere thanks to 56 yards and a touchdown. More importantly, Charles (still) passes the eye test at 30-years-old. On his 12-yard touchdown run, he flashed the patience, speed, and elite cutting that made him a superstar in his prime.
Charles is averaging 5.1 yards per carry in 2017 — typical, considering his career 5.4 YPC is the best all-time — and has no less than nine carries in each of the first three games. He is worth owning as a deep-league FLEX or potential handcuff to the oft-injured C.J. Anderson, and could gain further value if the Broncos start making use of his skills in the passing game.
Sticking with the theme of still-productive veterans many expected to retire, my goodness, Larry Fitzgerald! Fitzgerald was another guy who had underperformed his draft price through two weeks. Psyche! Fitzgerald refused to go quietly into the night, exploding on Monday Night Football for 13 catches, 149 yards, and a touchdown. And we're not talking about a bunch of catch-and-run slants either, people. See below.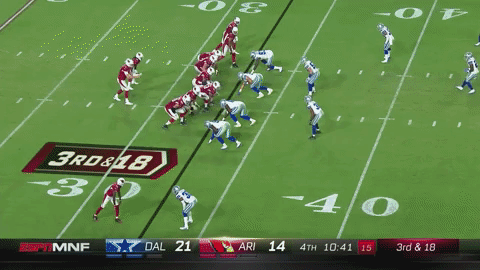 Fitz is back in fantasy owner's good graces (at least for now), and quieted talk of which young Cardinals receiver should be viewed as the "new No. 1" in Arizona. He's a starting asset for as long as he wants to be.
I swear, the back-to-back-to-back ageless wonders thing is not intentional, but Brady simply cannot be left out. He has clearly shaken off whatever rust depressed his opening day numbers and followed a monstrous Week 2 with an equally magnificent 378-yard, five touchdown performance against the strong Texans defense. Every pass-catcher in New England will hold season-long value with Brady slinging the rock (though it'll be difficult to predict which one to start on a weekly basis), but the wealth of weapons mostly benefits Brady himself. He is clearly right there with Aaron Rodgers at the top of the QB totem pole and will continue to win weeks for his fantasy owners single-handedly.
6. These Rookie RBs are in Legitimate Contention for Best Ever
We end our review of the old fogeys with a look at the young whippersnappers. After Week 3, the rest-of-season PPR running back rankings may as well be a summary of the 2017 draft class. Kareem Hunt (183 total yards and a TD) looks nigh unstoppable and can be confidently ranked with Le'Veon Bell and Ezekiel Elliott at the very top. After that, Dalvin Cook (169 total yards and a TD) and Leonard Fournette (80 total yards and his third TD in as many games) have both secured the RB1 label with ease. Christian McCaffrey (101 receiving yards on nine catches) and Joe Mixon (101 total yards on a team-high 21 touches under new OC Bill Lazor) finally joined the fun as well.
And that's all without considering Tarik Cohen and Chris Carson, both of whom have earned legitimate roles in their respective offenses and can be considered fantasy starters at the least. Dynasty owners rejoice, these guys are for real.
Both these guys could offer a full lesson on their own, but they're eerily similar. Both have increased their yardage output in each of the first three weeks of 2017, culminating with exceptional Week 3 performances — 188 total yards and a TD for Thompson, 104 yards and a TD for Johnson. Both are tied for the team-lead in targets (19 for Thompson, 18 for Johnson) in passing games currently devoid of reliable receivers. And both have been the most dynamic rushers on their teams in limited sample sizes (8.5 yards per carry for Thompson, 7.3 for Johnson).
The growing roles for each should be viewed as legitimate and may not have reached their peaks. Both are locked-in FLEX plays in PPR leagues and could challenge for low-end RB2 status if their carry counts were to increase.
8. Tight End is Thinner Than It's Ever Been
Finding a reliable fantasy TE has always been a bit of a chore, but 2017 is taking that concept to a whole new level. With Jordan Reed, Greg Olsen, and Tyler Eifert injured, and guys like Martellus Bennett, Hunter Henry, Kyle Rudolph and even Travis Kelce (to a degree) disappointing owners, tight end has quickly become the shallowest position in fantasy.
Unless you have Rob Gronkowski or Zach Ertz (both scored in Week 3), you're stuck somewhere between scratching your head and ripping your hair out. Jimmy Graham was kind of enough to come through with seven catches for 72 yards in Week 3 but has been otherwise quiet. At this point, you can either pay a premium for Gronk/Ertz/hopefully-Kelce or roll the dice with streamers until something more solid materializes.
9. Matt Ryan is Regressing, Despite Effective Offense
The Falcons offense has continued to put up points under new offensive coordinator Steve Sarkisian (23, 34, and 30), but Matt Ryan has not been the fantasy (and NFL) MVP he was in 2016. His Week 3 performance in a promising matchup with the Lions would have been his best so far (294 passing yards and three touchdowns) but was marred by three interceptions. That brings his per game averages to 289 yards, 1.3 TDs, and 1 INT, which translates to less than 15 fantasy points in standard leagues and puts him at 16th amongst fantasy QBs so far. For a guy drafted in the top-five, this is far from ideal has left owners wanting. A tough matchup with the Bills in Week 4 does not figure to help, but owners can look to Week 5 against the Dolphins for hope.
10. Tampa Bay is Hurting for Doug Martin's Return
Against a stingy Vikings defense, the Buccaneers and Jacquizz Rodgers were completely incapable of establishing a running game, totaling nine carries for 26 yards as a team in a 34-17 loss. Rodgers has posted a measly 3.4 yards per carry filling in for the suspended Martin, and the Bucs offense sputtered in Week 2 as a result. Martin looked exceptional in the preseason and has been an elite talent when he's on his game. The Bucs will be without their lead back again in Week 3, then Martin will be back on the field against the Patriots on Thursday Night Football in Week 4. This offense should be well above average with a respectable running game, so Martin's return is highly anticipated in Tampa Bay.