Fantasy Football: 10 Lessons Learned in Week 15
This is it, people. The fantasy championship. We've reached the final week (at least for all of you who don't suffer the travesty of a Week 17 championship), and it's time to pool our collective analytical powers and draw one last slate of lessons from the Week 15 action. Meaning of course, that I have gathered a final few lessons learned and am here to present them for your enjoyment and critical review.
For those of you battling for the title next week, congratulations. In all your grandeur, you probably don't even need this humble list, but thanks for stopping by anyway! For those of you who just missed out on the grand finale, I feel your pain. Consider applying these lessons to the glorious realm of DFS next week (shoutout to Draft.com). And for those of you clawing desperately to avoid a loss in your league's version of the "Toilet Bowl" … good luck. Now here are the 10 lessons learned in Week 15.
1. Jarvis Landry Is Borderline PPR Elite
It may seem odd that this lesson comes on the heels of one of Landry's less explosive fantasy days (due to the lack of a touchdown). But the fourth-year receiver's 10 receptions for 99 yards perfectly summarizes what has made him a near-elite PPR asset his entire career. He is incredibly consistent and catches balls at a furious clip. Landry's 98 catches this season are second to only Antonio Brown (101), and he'll likely end the year atop that list. His surprising eight receiving touchdowns, tied for fourth-most at the position, have also played a big role in elevating Landry to the No. 5 PPR receiver on the year. All with Jay Cutler or Matt Moore throwing the rock. This week was primarily a reminder, but it was one we all needed.
That's right, it's time for Antonio Brown to step aside. Hopkins currently sits about 1.2 fantasy points per game behind Brown for the lead at WR, playing with a 50-50 smattering of Tom Savage and rookie DeShaun Watson, plus a chunk of T.J. Yates. Hopkins' unyielding production has masked just how bad Savage and Yates are, but it shows on plays like the one below, where a properly thrown ball would've turned a difficult 41-yard grab into a breezy 70-yard touchdown.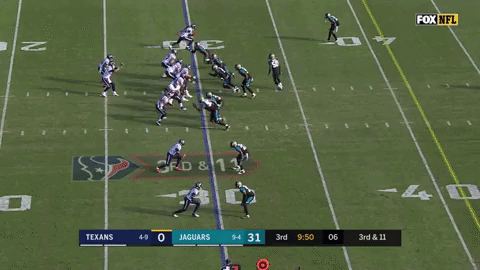 When Watson returns – and as he progresses into an even better player than he was in limited action this year – Hopkins' efficiency will skyrocket. Meanwhile, Brown's QB is likely to retire and other contenders like Julio Jones and Mike Evans have underperformed this year. Hopkins should be the No. 1 WR in 2018 fantasy drafts.
Okay, so that's a bit of a hyperbole, but the box score doesn't lie. Despite the widespread disdain for such a thought, Foles did his level-best Wentz impression on Sunday. He was 24-of-38 for 237 yards, four touchdowns, and zero interceptions — a picture-perfect Wentz stat line. Obviously, Wentz will be the starter when healthy next year, but Foles is currently tasked with upholding the playoff hopes of Philadelphia fans and fantasy streamers alike. With another great matchup against the Raiders porous secondary in Week 16, Foles is nearly a must-start. Also, it closes the door (in my book, anyway) on Wentz as an MVP candidate. This team elevated his play, not vice versa, and it's doing the same for Foles.
Count me among the many who saw Wright's Week 14 stat line (10 catches on 11 targets for 107 yards) as an aberration. And count me among the many more scratching their heads at his sudden chemistry with Mitchell Trubisky carrying through Week 15. Wright caught seven of his whopping 13 targets on Saturday en route to 81 yards receiving. While he has yet to score, the six-year veteran now has double-digit targets in two straight games and is the apparent go-to receiver for Chicago's rookie signal-caller. It probably still wouldn't be worth noting for fantasy if the Bears weren't facing the hapless Cleveland Browns in Week 16. If Wright's target share holds up in that matchup, he is a baffling FLEX option or cheap DFS play.
For those of you not dedicated to memorizing weapon terminology, a rapier is an extremely thin sword. Think Inigo Montoya from The Princess Bride or Arya Stark from Game of Thrones. Brute strength and straight-ahead bashing are useless with a rapier, just as they are with McCaffrey. Instead, both require precision and artistic flair. More of a dance than an assault. When used properly, McCaffrey is capable of doing what he did Sunday — 12 rushes for 63 yards and six catches for 73 yards and a touchdown. He has massive potential in the NFL, as long as the Panthers can draw up creative and exciting plays to get him in space.
6. Jordy Nelson Is An Unrecoverable Bust
Many of us looked to Jordy Nelson to rise from the ashes with Aaron Rodgers back at the helm but were sorely disappointed with the results. Nelson had a mere 28 yards on three catches (six targets) with Rodgers back in action, as Davante Adams, Randall Cobb, and even Richard Rodgers stole the show. Nelson has not topped 80 yards a single time this season, and all six of his touchdowns came in Weeks 1-5, an unfathomable lifetime ago. Worst of all, Green Bay shut down Rodgers for Week 16 and 17 after being eliminated from playoff contention, which means Jordy is waiver wire fodder again instead of desperate championship glory play. At 32 years old and with a contract out heading into 2018, Jordy's days as a fantasy star may be entirely over.
7. Tyreek Hill Is Only Getting Better
In the Kansas City red, white, and gold, it's hard to tell the difference between Tyreek Hill and The Flash. I mean, holy mackerel. This kid is making fools out of the absolute best in the business including Pro Football Focus' No. 1 rated CB, Casey Hayward, on Saturday night. He may be one of the fastest players we've seen on a football field ever, and his receiving skills are only improving. After 88 yards and a TD on Saturday, Hill is on pace for 79 receptions, 1,227 receiving yards, and eight touchdowns, unquestioned WR1 numbers. It's only his second season, and his rookie year was spent serving as more of a gadget player. Good luck to the Dolphins, and to anyone facing Hill in the fantasy championship, in Week 16.
8. Todd Gurley Belongs On The MVP Short List
At this point, there are few lists on which Todd Gurley does not make an appearance at the very top. Running back receptions: sixth (54). Rushing yards: third (1,187). Running back receiving yards: second (630). Total touchdowns: first, and it's not close (17). Total PPR fantasy points, including QBs: first (333.7). Following the weekend's action – wherein Gurley (180 yards and four TDs) crushed Russell Wilson's Seahawks and Antonio Brown suffered an injury that will cost him the remainder of the regular season – he should now stand alone on the short list for MVP next to Tom Brady. To those of you brave enough to draft Gurley this year, to teenage wizard Sean McVay, and to all LA Rams fans, congratulations.
9. Michael Thomas Is An Under-The-Radar Superstar
Michael Thomas is the Morgan Freeman of fantasy receivers. He's no high-octane action hero or hulky heartthrob, but he's guaranteed gold and is quietly one of the best in the business. Thomas found pay dirt for the fifth time in 2017 on a goal-line TD this week, but he also missed a couple more scores by the hair on his chinny-chin-chin. Even still, his nine catches for 93 yards and the touchdown were more than adequate to uphold his status as an underrated stud. Thomas is currently the No. 4 WR in PPR formats thanks to surefire consistency all season – five or more catches in all but one game, 65 yards or more in all but three. It's time we give him the respect he's earned (and Freeman another Oscar).
10. The Bucs' Run D Is Horrific
Devonta Freeman's monster performance on Monday night was absolutely worth a mention, but the lesson doesn't really concern Freeman at all. Freeman rushed for 126 yards and a TD on 22 carries while adding 5-for-68 through the air. His 30.4 PPR points on the night vaulted Freeman to RB15 on what has been an otherwise disappointing season for the first-round pick. And this should be a big, flashing alert for all Jonathan Stewart and Christian McCaffrey owners out there. The Panthers draw this Tampa Bay "defense" in Week 16 and both RBs are likely to have their way in Carolina. Fire up both wherever you can, including every DFS site you have access to.