Fantasy Football: 10 Lessons Learned in Week 14
*Pours one out for Carson Wentz.*
That's just about all I can muster folks. Yet another fantasy star and MVP candidate has fallen, as Wentz hit injured reserve this week with a torn ACL. For owners seeking a QB fill-in, park all moving vehicles and step away from any heavy machinery before proceeding. For everyone else, good luck in your fantasy semifinals and let's get into the 10 lessons learned in Week 14.
1. Blake Bortles Is Your Waiver Ticket To The Title
That's right folks. For anyone who lost Wentz or Josh McCown, or has streamed their way to the fantasy playoffs, Mr. Bortles is a regrettably great option for Weeks 15 and 16. Coming off a 268-yard, two-TD, zero-interception performance against the Seahawks, Bortles draws a duo of dream matchups in the Houston Texans and San Francisco 49ers. Riding a two-game hot streak and suddenly surrounded by breakout receiver talent in Marqise Lee, Dede Westbrook, and Keelan Cole, Bortles is not the hero we deserve, but he sure is the one we need.  Trusting Bortles to win you that #FootClanTitle probably isn't high on your to-do list, but it's a surprisingly good bet nonetheless.
2. Mohamed Sanu Is An Under-the-Radar "Sneaky Snart"
Are you a fantasy owner seeking a playoff glory-play in Week 15? How about Mohamed Sanu? His eight-yard score to tie Thursday's contest with the Saints marked Sanu's fourth receiving touchdown in the last seven games. And it's not a fluke, as Sanu's six receptions inside the 10-yard line trail only five players in football (all with seven). For whatever reason, Sanu is the go-to goal-to-go receiver Julio Jones should be. The cherry on top? Sanu and the Falcons get Tampa Bay – one of the absolute worst pass defenses in the league – next week in your semifinal matchup. Sanu had eight catches for 64 yards against the Bucs in Week 12. If he can snag a TD on top of that, he could be a great spot-start next Monday night.
3. Jack "Frost" Doyle A Stone-Cold Streamer
In a game almost completely devoid of offense, Jack Doyle snagged this little three-yard TD to send the game to overtime and earn himself a new nickname (#BabyHands #NeverForget).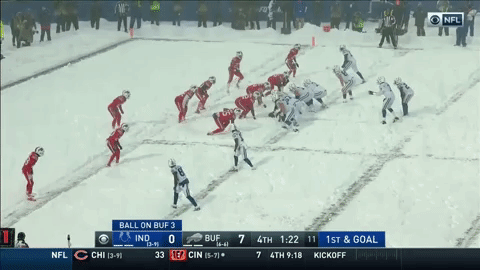 You had to know I would work in a shot of this blizzard, as it was just too glorious to miss. Doyle also caught the successful two-point conversion a play later, only to see it wiped by a penalty and replaced by one of the most unique PATs ever seen. Doyle has been streaky all season but draws a great matchup at home versus the Denver Broncos next week. In what will be much more temperate conditions in Lucas Oil Stadium, Doyle is a great streaming option or DFS play.
I guess he's technically the new top Lion, but let's not get into semantics. With Ameer Abdullah handed a surprising spot on the bench this week (more "for play" than for injury reasons), Theo Riddick took over the Detroit backfield in force. The pass-catching specialist hauled in six of 10 targets for 64 yards and added 29 yards and two touchdowns on the ground. His second TD was easily his strongest run of the game, as Riddick shed just about the entire Bucs defense on an 18-yard scamper to pay-dirt. Monitor the backfield plans for next week and if Riddick earns the nod again, start him with confidence against a Bears team that just allowed 19 PPR points to Giovani Bernard.
5. Nick Foles Is a Consideration, Albeit a Wild One
I'm attaching my name to Bortles and Foles, and I'm ready to go down with the ship. Here are the facts. Foles has done it before (20 fantasy points per game in 2013). He has been decent in minimal work in 2017 (6-for-10 for 42 yards with no preparation following Wentz's injury). And his supporting cast is just as elite as Wentz's was, with a dominant O-Line and plenty of weapons at every skill position. Best of all, he draws matchups with the New York Giants and Oakland Raiders in Weeks 15 and 16, who rank 25th and 32nd in Pass DVOA according to Football Outsiders. It's risky, perhaps even riskier than Bortles (a phrase that has never been said before), but Foles should be considered long and hard if pickings are slim.
6. O.J. Howard's Flashing Big Rookie Potential
Rookie tight ends aren't usually worth more than a dynasty stash in fantasy, but O.J. Howard is rising up the ranks fairly quickly. Howard's six targets on Sunday were the highest of his career and second-most on the team behind DeSean Jackson's seven. Howard's 54 receiving yards on four catches made for his third game of 50-plus over the last four weeks and he also caught his fifth touchdown of the season. While Howard's long-term keeper value is certainly higher than his redraft value in the fantasy playoffs, Howard does face the Falcons in Week 15, who he beat for 52 yards on three catches in Week 12. In a rough tight end landscape, you could do worse for a longshot streamer.
7. J-Stew Ain't Through … Who Knew?
Yes, I am a brilliant poet in my spare time, what can I say? Had you asked nearly any expert to name the worst fantasy outlook for a "starter" for Week 14, quite a few would have named Jonathan Stewart against the stifling Vikings run defense. Apparently, Stewart had other plans. The aging veteran broke off a 60-yard touchdown and finished the day with 103 yards on 13 carries and, count them, three touchdowns. While chasing flukey points is rarely a wise fantasy strategy, Stewart faces the Green Bay Packers and Tampa Bay Buccaneers in Weeks 15 and 16. Both can be beat on the ground and Stewart could look to continue a current hot streak that includes six TDs in his last six games – one of which came against the Bucs.
8. Demaryius Thomas Has Something Left In The Tank
Fantasy owners who've been lamenting Demaryius Thomas's poor 2017 season had to be pleased with 8-for-93 and this powerful TD grab on Sunday. Even those who expected a downturn with the Denver QB roulette have been disappointed with his low-end WR2 production, so this Week 14 breakout was a breath of fresh air. To be fair, the Jets' defense is no juggernaut and Trevor Siemian still hasn't shown enough to offer much of a trust factor to Thomas's fantasy outlook. But with the Colts on deck, there is certainly an open door for Thomas to post another solid fantasy performance in Week 15.
9. Kenyan Drake Has Cracked RB1 Status
In the six games since the departure of Jay Ajayi, Kenyan Drake has posted 591 total yards (plus 20 receptions) and three total TDs. That's 16.2 PPR points per game, which is well inside RB1 territory. His 79 receiving yards against New England on Monday night were a career high and his 114 rushing yards were second only to last week's total of 120 against Denver. With Damien Williams sidelined (shoulder), Drake has been nigh unstoppable. He gets soft matchups in the Bills and Chiefs to wrap up the fantasy playoffs, making him a must-start and potential league-winner come Week 16.
10. The Jaguars D/ST Is Reaching Epic Heights
I know, a Lesson Learned about a D/ST? What is this, kindergarten fantasy? Listen, the majority of leagues start D/STs and the simple fact is that these Jaguars are one of the best units we've seen in decades. After ringing up the QB1, Russell Wilson, for two sacks and three interceptions on Sunday, something has to be said. Using DraftKings scoring as a relatively universal baseline, the Jaguars are currently on pace for 221.5 fantasy points (13.8 per game), with plenty of potential to top that number considering their remaining schedule. That would put them behind only one unit over the past decade, the 2012 Chicago Bears. Say what you will, at the end of the day there are going to be a lot of championship teams with the Jaguars D/ST. Insert mic drop here.