Fantasy Football: 10 Lessons Learned in Week 1
After just about the most baffling fantasy week in recent memory, many of us are left stumbling for a grain of hard fantasy truth. Is Kareem Hunt a lock for 40 fantasy points per week? Is Andy Dalton the worst quarterback in the history of the NFL? Is Stefon Diggs channeling the receiving superpowers of Randy Moss?
In the face of so much befuddlement — and in the interest of avoiding gross overreaction — let's break down 15 of the most important lessons learned from Week 1 of the NFL season (one per game).
1. Danny Amendola is, in Fact, the New Edelman
Amongst the Hunt, Tyreek Hill, and Alex Smith explosions, we also learned this: if healthy, Danny Amendola will be a drop-in replacement for Julian Edelman's production. Amendola caught six of seven targets for 100 yards through about two and half quarters — working Edelman-esque plays and catching multiple third-down conversions — before leaving the game with a concussion. Amendola is always an injury risk, but if he can get on the field (and stay there) he could have WR2 potential in PPR leagues. If not, look to acquire James White ASAP, as he would likely be the No. 1 short yardage guy in Amendola's absence.
2. Kenny Golladay's Smooth Routes Weren't a Fluke
Don't get crazy, we're not saying Kenny G is a WR1 … yet. Seriously, though, Golladay got a lot of analyst hype after a monstrous preseason opener but went largely undrafted in leagues. After a 69-yard, two TD performance in Week 1, he's at least worth rostering just about everywhere. He will likely split big weeks with Marvin Jones (based on who scores), while Golden Tate racks up PPR gold. But in an offense that will pass often, Golladay has the talent to frequently convert six or seven targets into flex-worthy numbers.
Many in the fantasy and NFL community were hoping for Wentz to take that next big step in Year Two, and it seems he has. Wentz was 26-of-39 for 307 yards and two touchdowns and looked poised, mature, and more than capable in the nation's capital. And of course, there was this highlight reel play, where he pulled off his best Aaron Rodgers impression.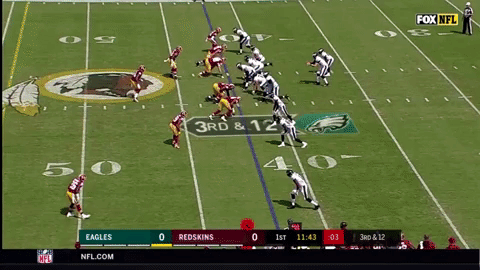 Until Philadelphia figures out a running game (which may be never) Wentz will be asked to carry this offense on his back, and that load could translate to consistent QB1 numbers for the foreseeable future.
4. Tarik Cohen is Lightning in a Bottle and Must Be Owned
Cohen was probably the number one waiver add in most standard leagues this week, and for good reason. With Kevin White and Benny Cunningham both sustaining injuries in Week 1, Cohen has a clear path to 10-15 touches per week and may lead the team in targets and receptions. With his explosive efficiency — 113 yards on 13 touches — Cohen can easily turn that workload into weekly FLEX value.
I wrote a piece in the offseason detailing why Leonard Fournette would be a guaranteed bell-cow back in Jacksonville this season. Week 1 added fuel to that fire in every way. The rookie was handed 26 carries and three receptions boot, totaling 124 yards and adding a goal line touchdown — on fourth down, no less. This team is going to feed Fournette at levels possibly only rivaled by Ezekiel Elliott and David Johnson, and considering the positive game scripts their strong defense could provide, he's a near lock for RB1 production.
6. Beast Mode is Still Beasting
This was one of the lessons I was most looking forward to learning early in the season. So far, Marshawn Lynch looks solid. He toted the rock 18 times for 76 yards, added a 16-yard reception, and ran with the kind of truck-stick power we remember from his heyday in Seattle. Whether he can keep it up over the course of the season remains to be seen, but for now, Lynch is a worth RB2 with easy RB1 upside when he starts hitting pay dirt.
7. The Giants Are Awful Without OBJ
Odell Beckham Jr. might want to keep nursing that leg injury until the Giants are willing to pay him top dollar because he's clearly worth it on this offense. Without him in Week 1, the Giants were almost as bad as their neighbors, the Jets, as Eli Manning and company mustered only 233 total yards and three points. Until Beckham returns, Manning, Brandon Marshall, and Paul Perkins are sit-worthy in typical leagues. And when he does, all may be buy-low targets considering what he will open up on offense.
8. Cam Newton is No Longer the Carolina Offense
Jonathan Stewart and Christian McCaffrey combined for 38 touches, and Cam looked less than super in this matchup with the 49ers. Newton was 14-of-25 for 171 yards and a pick, missed some wide open throws, was gifted one of his two TDs thanks to a short scamper by J-Stew and added absolutely nothing with his legs. As reported, the Panthers have done away with the gunslinging, goal line back version of their QB. As a game manager with upside, Newton might be one of the best sell-high candidates in fantasy after Week 1.
9. The Sean McVay Experiment is Working
In a week filled with dud games and dud fantasy performance, many were shocked to see the Rams as the highest scoring team on the slate (yes, even over the 42-point Chiefs). Granted, 14 of those points came off pick-sixes and granted, the Colts are awful on both sides of the ball. But McVay has clearly transformed Jeff Fisher's horrendous offense into a respectable unit and even has former "first round bust," Jared Goff looking like a capable NFL quarterback. If things keep humming in LA, Todd Gurley, Sammy Watkins, and rookie breakout Cooper Kupp could all return hefty value on their depressed draft costs.
10. Chris Carson is the Best RB in Seattle
The Seahawks may not know it yet, and we may not see Carson truly make an impact in fantasy until they do, but the rookie was far and away the best runner on the field in Week 1. Thomas Rawls was out with an ankle issue and will be back for Week 2, but his consistent injury concerns and volatile production could give way to Carson sooner, rather than later. Even behind poor offensive line play, Carson averaged 6.5 yards per attempt, while his competitors — Eddie Lacy and C.J. Prosise — managed a dismal 0.6 and 2.8 respectively. Stash Carson and be patient. If he wins the job, he'll have hefty upside for free.