Fantasy Football: Leonard Fournette is a Rookie Bell Cow RB
Just about every year, fans and analysts alike find an NFL rookie they can label as the "next great one": Jadeveon Clowney in 2014, Andrew Luck in 2012, the list goes on. Often, all our carefully researched guesswork falls by the wayside and we're left with a handful of Ryan Leafs … leaves?
But, every so often, the label sticks. Peyton Manning. Calvin Johnson. Adrian Peterson. (Keep that last one in mind — he will come up again shortly.)
In 2017, many have tagged Leonard Fournette as that guy. And this time, they may not be wrong.
The Scouting Report
Leonard Fournette has been touted as one of the top football prospects in the nation for years. Even a wealth of fans with little exposure to the college game have seen his highlight reels. Which is not surprising, considering they compare favorably with footage of a monster truck annihilating piles of junkyard cars. If you are one of the few who hasn't seen this kid (excuse me, man) in action, take a gander at these runs.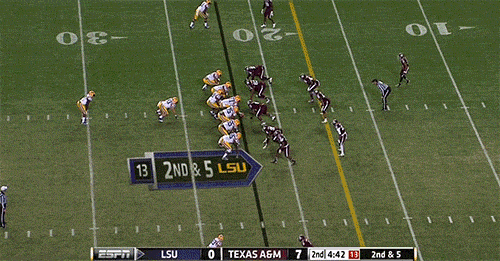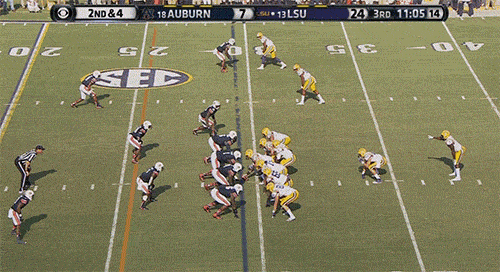 The 6′ 0″, 240-lb behemoth out of LSU is basically a human truck-stick, who frequently flashes enough speed to outrun defensive backs. Elusive, explosive and outright ferocious as a runner, Fournette also possesses a devastating stiff-arm and elite balance. He ran a 4.51 40-yard dash at the 2017 combine, which puts him in the 96th percentile for his size. Check out Cory Evans' rookie profile on Fournette for more on his collegiate production and measurables.
Many have sought to compare Fournette to other backs and landed on names like Frank Gore, Todd Gurley and … Adrian Peterson. While Fournette is a little bigger than AP, the two do have strikingly similar scouting reports, focused on their rare size-speed combos and violent running styles. The question is, can Fournette measure up on the NFL level?
Massive Opportunity in JAX
The Jacksonville Jaguars selected Fournette with the fourth overall pick in this year's draft, making him the third running taken that high in the last 10 years (Trent Richardson, third in 2011 and Ezekiel Elliott, fourth in 2016). Along with drafting Fournette, the Jags hired Tom Coughlin, a wizened veteran of the ground-and-pound era, as the Executive VP of Football Operations. Coughlin aggressively prioritized defensive improvement in free agency, and Jacksonville added three big-ticket players in Calais Campbell, A.J. Bouye and Barry Church.
In other words, Jacksonville wants to run the ball, play stout defense, run the ball and also … run the ball. Still not convinced? Consider Head Coach Doug Marrone's straight-faced response when asked how many times he wanted Bortles throwing the ball per game: "None. Zero. I want to go back to the old way. I want to change the game." While it's unlikely Marrone's drastic goal of zero pass attempts works out, it is abundantly clear where the Jaguars want their offense in 2017.
Last year, Jacksonville was fourth in pass attempts (626) and 24th in rush attempts (392) — those ranks should essentially swap in 2017. With less talented competition on the rest of the depth chart, Fournette has a clear path to bell cow status and possibly as many as 300-plus carries.
Can the Bell Cow Capitalize?
The talent is there and the workload looks magnificent, but there are a few hurdles on the way to RB1 status. First, can Fournette can stay on the field for all three downs, considering his minimal involvement in the passing game in college? So far, the answer looks positive, as reports out of camp say Coach Marrone has been impressed with Fournette's catching prowess.
Second, can the Jags' offensive line give Fournette a fighting chance down the field? Pro Football Focus ranked their O-line 22nd in the league last year, but surprisingly boosted that rank to 13th heading into 2017. The squad is anchored by PFF's No. 5 graded center, Brandon Linder, and Jacksonville also drafted Cam Robinson from Alabama, widely considered the most NFL-ready offensive lineman in the 2017 class (second round, 34th overall).
Finally, can Blake Bortles turn the ball over at a low enough rate that Fournette actually has a chance to tote the rock? Believe it or not, he can. Of Bortles' 16 INTs last year, 15 came when the Jags were either tied or behind on the scoreboard. The 25-year-old QB has been a victim of painfully obvious game scripts and opposing defenses have feasted. Now, with an improved defense, another year of maturity and a fearsome running back at his side, Bortles has been gifted all the tools to rein in his turnover proclivity and win a respectable collection of games.
Fournette did run track in high school, so a string of hurdles should be a walk in the park. In fact, you can expect to see a few highlights of the rookie hurdling NFL defenders on his way to a strong 2017 campaign.