2022 NFL Draft Rookie Profile: Sam Howell (Fantasy Football)
After his stellar freshman and sophomore year campaigns, many analysts had Sam Howell as the presumed first quarterback taken in the 2022 NFL Draft. After losing several key pieces to the North Carolina offense in the 2021 NFL Draft (running backs Javonte Williams and Michael Carter and wide receivers Dyami Brown and Dazz Newsome), Howell had a definite drop-off in production resulting in his draft stock sliding. Howell is now one of the more intriguing prospects in the draft, especially in a weak quarterback class.
According to NFLmockdraftdatabase.com, Howell is a late first-round to an early second-round pick in mock drafts. All it takes is one NFL team to fall in love with Howell, and there are a lot of teams looking for quarterbacks, but it does seem like teams know this is a weak quarterback draft class, so it will be interesting to see how it plays out.
College Production Profile
| | | | | | | | | | | |
| --- | --- | --- | --- | --- | --- | --- | --- | --- | --- | --- |
| | Games | Comps | Att | Comp % | Pass Yards | Y/A | Pass TDs | INTs | Rush Yards | Rush TDs |
| 2019 | 13 | 259 | 422 | 61.4 | 3,641 | 8.6 | 38 | 7 | 35 | 1 |
| 2020 | 12 | 237 | 348 | 68.1 | 3,586 | 10.3 | 30 | 7 | 146 | 5 |
| 2021 | 12 | 217 | 347 | 62.5 | 3,056 | 8.8 | 24 | 9 | 828 | 11 |
As mentioned above, Howell put up big numbers as a freshman, throwing for 3,641 yards and 38 touchdowns, both college career highs. He followed that up with another great year in 2020, throwing for 3,586 yards and 30 touchdowns. In his junior season, Howell threw 3,056 yards and 24 touchdowns. While he did have a dip in his passing production, he produced more on the ground than he did in previous years, rushing for 828 yards and 11 touchdowns on 183 attempts.
Measurables
| | | | | |
| --- | --- | --- | --- | --- |
| Height | Weight | Hand Size | 40-yard Dash | 247 Sports |
| 6'1" | 218 | 9 ⅛" | 5.07 (HS) | 4-star recruit |
Sam Howell is 6'1″ and 218 pounds, basically a Baker Mayfield-type of frame. He is slightly smaller than the NFL QB1 college average that you can see in the Dynasty Pass when you purchase the UDK+, but size won't be a concern at the next level for him. Unfortunately, Howell did not run the 40-yard dash at the combine. While it's not necessarily that important, it would have been interesting to see his time since he scrambled so much this past season.
What's On Tape
Games Watched: South Carolina (2021), Virginia (2021), Miami (2021), Pittsburgh (2021), Wake Forest (2021), and Florida State (2021)
Howell Can Run Well, but May Run Too Much
While watching the tape, I noticed that Howell tends to scramble out of the pocket quite a bit, but he typically makes plays when he does. He can break tackles and move the chains to keep drives alive. According to PFF, he had 65 broken tackles in 2021, the most by a Power Five quarterback since 2014. He was also tough to defend in RedZone situations, as he would frequently fight his way into the endzone for the score.
While running in college was a strength for him in 2021, it could be challenging to translate that style to the NFL. While I'm sure some of the plays were designed runs, and some of the scrambles were forced due to bad blocking or lack of open receivers, Howell seemed to tuck and run frequently. It's good to take yards when you can due to the lack of open receivers and not forcing a pass, but he may sometimes choose to run too quickly before going through all of his reads. This take is more of a real football take rather than fantasy football, as we obviously love quarterbacks that can scramble, and we will get into that when we talk about his 2022 outlook.
He Rarely Slides to Avoid Contact
While watching the tape, one of the first things that I picked up on was that Howell welcomes contact and rarely slides to avoid it. He took several big hits from defenders while trying to gain extra yards, and while that worked in college, he likely won't last in the NFL if he is continuously taking big hits from defenders when he is scrambling outside of the pocket. Here are a few examples of Howell taking big hits and looking for contact.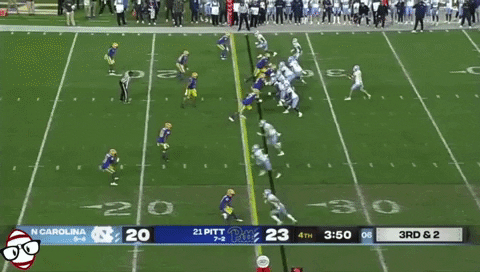 In this particular play, Howell is in a 3rd and long situation and is determined to get the first down and try to score. While it was a great play, he takes a ton of punishment on his way to the endzone. He is confident in his running ability and is willing to put his body on the line to win, which is good, but it could be dangerous to take consistent hits such as these.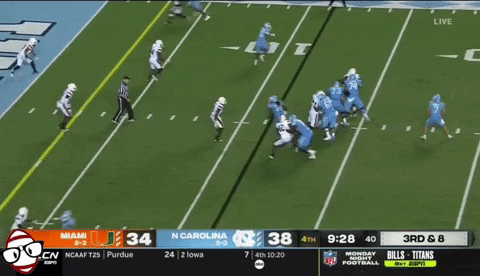 Nice Arm Talent
Howell has good arm talent and can both throw the deep ball and zip it into zones between defenders where only his guy can get it. I walked away from watching the tape being more impressed with his intermediate passing than his deep passing overall.
There were many plays where it was evident that Howell has the arm talent that can translate to the next level. As you can see in this first clip, he zips the ball in the perfect place and hits his receiver in stride, allowing the receiver to gain extra yards and avoid a big hit.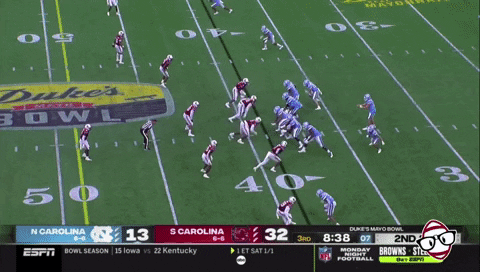 Here is another impressive clip where Howell puts the ball right over the defender and once again hits his receiver in stride, this time resulting in a touchdown. I was impressed with his ability to hit his receivers in the middle of the field like that.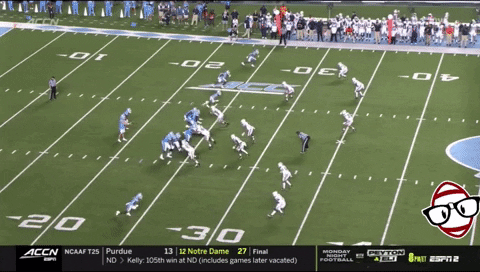 In this last clip that displays his arm talent, Howell lets it fly for about 50 yards. While the receiver did make a great play on the ball, it was a great throw. His receiver was the only one who could get to it, and he dropped it right in a bucket for the huge play.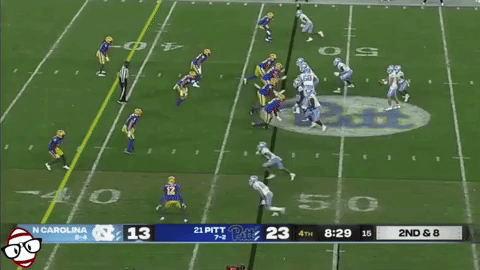 Deep Ball Accuracy
While Howell is capable of throwing the deep ball, he was inconsistent with his ability to deliver accurate deep passes in 2021. There were multiple occasions of Howell overthrowing his open receiver or underthrowing, allowing the defender to break up the pass. He did throw down the field a lot and plays with confidence in his arm, but sometimes I believe he lacks touch on the ball.
What's Not on Tape
Good Decision Maker
I mentioned how Howell plays with confidence in his arm, and it's evident how often he pushes the ball down the field. The good news is that he does not seem to turn the ball over very frequently when he does that. Howell has 92 career touchdown passes and 23 interceptions, a 4:1 touchdown to interception ratio. I saw a couple of plays where Howell was overconfident in his abilities and threw across the field, which resulted in an interception. Still, overall, he doesn't make those mistakes too often.
College QBR
According to PlayerProfiler.com, Sam Howell had a 79.3 college QBR (70th percentile). QBR is a stat created by ESPN that considers a quarterback's performance to score points and win games. Howell had a QBR of 79.3 in 2020 (14th). This season, Howell had a QBR of 76.1 (21st). This metric also shows his regression from 2020 to 2021.
2022 Fantasy Outlook
Rookie quarterbacks are unlikely to play a significant factor in fantasy football unless they are a "Konami code" type of quarterback who runs a lot. While he did have success rushing this year, I don't think I would put him into the elite rushing quarterbacks category, and I think it's more likely that Howell is at most a spot start type of quarterback in 2022, but not someone that will make much of an impact.
In dynasty leagues, Howell is likely an early to mid 2nd round rookie pick unless he ends up getting higher draft capital in the NFL draft than is currently expected. He will be much more valuable in dynasty than redraft in the immediate future.