2020 NFL Draft Rookie Profile: Zack Moss (Fantasy Football)
Rankings tend to generate lots of small arguments. Should DeAndre Swift or Jonathan Taylor be the first rookie RB drafted in dynasty leagues? I lean towards Taylor, but I wouldn't really bat an eye if someone preferred Swift. They're both such great prospects that landing spot could easily make my preference change. There are arguments like that and then there are absolute battles like the one that's heating up over Zack Moss.
There are two camps when it comes to Zack Moss. There are those that view his poor athletic testing, relatively low expected draft capital, and older age for a rookie (22) as major red-flags. There's another camp that views his college production, ability to force missed tackles, and success in the passing game as enough to put him on even ground with the aforementioned Jonathan Taylor and DeAndre Swift. This article makes you understand why both views are valid.
Editor's Note: For more on the 2020 rookie class, check out all of our 2020 NFL Draft content and stay tuned to the Fantasy Footballers podcast for April's Rookie Preview show where the Ballers breakdown each position heading into the draft
College Production
| | | | | | | | | |
| --- | --- | --- | --- | --- | --- | --- | --- | --- |
| Year | Games | Rush Attempts | Rush Yards | Yards/Att | Rush TD | Receptions | Receiving Yards | Receiving TD |
| 2016 | 10 | 84 | 382 | 4.5 | 2 | 1 | 4 | 0 |
| 2017 | 13 | 214 | 1173 | 5.5 | 10 | 29 | 243 | 0 |
| 2018 | 9 | 179 | 1096 | 6.1 | 11 | 8 | 50 | 1 |
| 2019 | 13 | 235 | 1416 | 6.0 | 15 | 28 | 388 | 2 |
Zack Moss spent all four years of his college career with Utah. Moss' production was exceptional with over 1,000 and double-digit TDs during his last three years and over 1,400 yards from scrimmage in his two full seasons. His 2018 season was cut short because of a pre-existing condition that led to a season-ending knee injury he suffered getting into bed. No seriously – and it required surgery.
NFL Scouting Combine Measurements
| Height | Weight | 40 Yard Dash | Vertical Jump | Broad Jump | 3 Cone Drill |
| --- | --- | --- | --- | --- | --- |
| 5'9" | 223 lbs | 4.65 sec (T-24th) | 31″(22nd) | – | – |
Zack Moss reportedly tweaked his hamstring while performing the vertical jump, but participated in the 40-yard dash anyways. The results gave him a disapponting  SPARQ-x score in the 29th percentile. His pro day was cancelled, but he did hold a private workout where his 40-yard dash was electronically timed at 4.52 seconds. Pro days and private workouts are notorious for generating times that are faster than they are at the combine.
What's on Tape
What you see on tape depends a lot on which year you're watching. His work in the pass game during the 2019 season was fantastic, but he looked fairly average running the ball. He looks significantly more athletic running the ball in 2018, but wasn't used a whole lot in the pass game.
Games viewed: Oregon (2019), Texas (2019), Stanford (2018), Washington (2018), UCLA (2018)
The Good
1. Pass Blocking
Zack Moss is exceptional as a pass-blocking RB coming out of college. He's good at diagnosing blitzes and he wins against defenders from the secondary, linebackers, and linemen. His pass-blocking tape vs Texas was a clinic. This is him diagnosing the blitz and picking up the linebacker: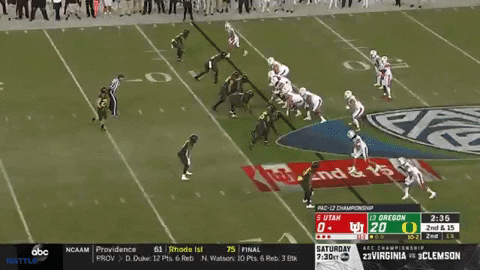 In that same game, he stuffed an unblocked lineman running at full speed who weighed 277 lbs. His abilities as a pass blocker showed up well in all games.
2. Pass Catching
There is a lot to take away from this play as simple as it was: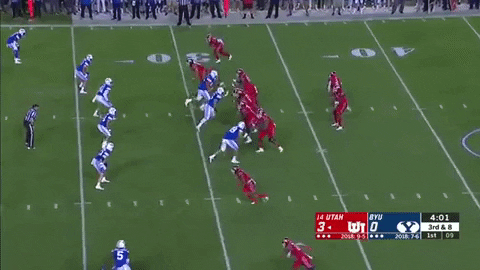 Moss was an extremely effective and efficient pass catcher because of plays like the above. He turned 31 targets into 28 receptions for 388 yards and two TDs in 2019. That comes out to 13.9 Y/R. One of the reasons his Y/R and broken tackle rate (31.6% per Sports Info Solutions) were so high is his elusiveness in space. In the above play, he uses his go-to "Tornado Spin" move to perfection.
The second takeaway was the play itself. You have to question why, if he's that good as a pass-catcher, was he not catching many passes in 2018? The reason was the scheme. Utah would split Moss out wide regularly on pass plays, but only to function as a blocker while they ran WR screens in 2018. You also see him standing in to block and staying there even when there's no one to block. Utah schemed him open more often in 2019 and ran WR screens less frequently. Moss also started to become an outlet for his QB if there was no one to block during pass plays.
Moss' ability to protect the QB and be a playmaker out of the backfield in the passing game should make him an early contributor on whichever team drafts him and gives him immediate value in fantasy leagues.
3. Analytics
These stats are among the highest in the draft class:
Broken Tackles: 74
Broken Tackle Rate: 31.6%
Yards After Contact/Attempt: 4.1
This is where some rankers have Moss significantly ahead of where you would expect to see Moss based on early rookie ADPs. Of the RBs in the Power-5 conferences with 150 or more carries, only Jonathan Taylor and AJ Dillon have more broken tackles, but their broken tackle rates hover around 25%. The only rookie RB that beats Moss' 31.6% broken tackle rate is Clyde Edwards-Helaire. Moss' 4.1 Yards After Contact/Attempt(YAC/Att) is by far the most among Power-5 RBs in this draft class with Jonathan Taylor coming in at second with 3.7 YAC/Att. The reason some rankers have Moss so high is because an RBs ability to break tackles is a trait that tends to translate well from the NFL.
The Bad
1. Short Yardage
I like to see who coaches trust in short-yardage and how players respond. This was a critical 4th-and-1 play vs Oregon in the PAC-12 Championship game: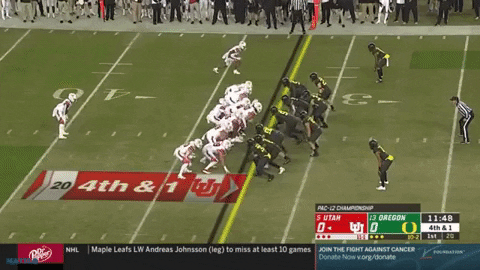 On plays like this, an RB needs to run decisively, violently, and get the tough yard or two needed to continue the drive. He bounces outside before turning inside, which kills his momentum. He then turns sideways(a nasty habit that turns up too frequently), which strips him of driving power. The crazy thing is, almost the identical thing happened the play before on 3rd-and-1. On that play, Moss looked to bounce outside before cutting back, he got twisted sideways, and couldn't drive the defenders back for the yard needed for the first.
2. Decision Making
This is a pretty fun play and you may have seen it if you watched a Moss highlight video: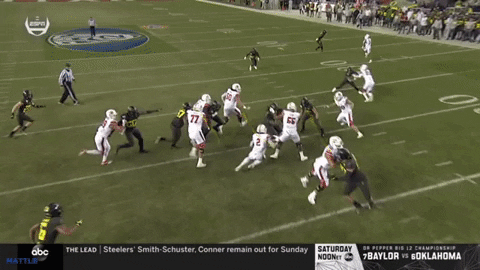 The problem is, it's not a good play. Moss gets lucky #6 takes the worst possible path towards the play and doesn't drop him deep in the backfield. Moss is able to turn it around but gets chased down pretty easily demonstrating the sub-par speed we see on his 2019 tape and combine. This sounds weird, but a good RB in the NFL will get back to the line of scrimmage. An RB that tries this in the NFL winds up costing their team 5 or more yards which actually happened to Moss on an almost identical play later in that game.
Case Closed?
I can see where some people don't project Moss to the NFL well. I had a lot of reservations myself, but then I went back to the 2018 tape and something was different. Moss looked like a completely different player. He ran with power and decisiveness in short-yardage situations, he looked more agile, and he had a second gear not seen in 2019. Judging speed by tape is tricky, but there was at least one play in each of the 2018 games where he was able to pull away from defenders coming from the secondary.

What Happened Between 2018 and 2019?
I mentioned the season-ending knee injury that ended Moss' 2018 campaign, but there was also this play early in the 2019 season: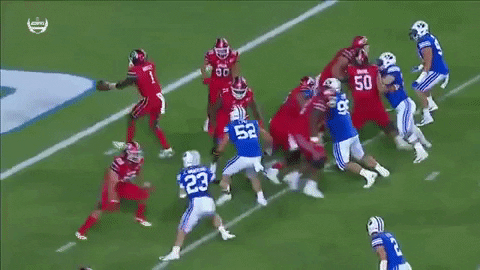 I watched this and thought, 'Great play, but how did he not hurt himself?' Well, he did. At the end of the play, he pulls up a little lame. He stays in the game, but can barely put weight on it on the very next play. He toughs it out and is able to rip off some nice chunk runs later in the game, but he never seemed to be at full speed and his agility was shot with no ability to cut using his left knee.
Moss' 2018 season was cut short by a meniscus tear in his right knee that required surgery. Had he not required surgery, he probably would have declared for the 2019 draft. I'm not a medical expert, but I think there's a really good chance he wasn't quite at full strength during the 2019 season which could have cost him some of the speed, power, and agility he displayed in 2018.
This creates a problem when projecting him. If he was that productive his senior season when his knees weren't 100% but will be fine for his rookie year, then we're probably sleeping on him. If, on the other hand, teams are worried about his knees, his knees aren't actually at 100%, and/or he has chronic issues with his knees then his draft position and ability to get on the field may be negatively affected.
Fantasy Outlook
Zack Moss should be on the radar heading into the regular season especially if he's going to a team that could use him in the passing game like Tennessee or Indianapolis. He's the type of guy that could be useful as a flex position spot starts in PPR leagues with immense upside if there's an injury in front of him.
In dynasty leagues, Moss is being drafted in the early- to mid-second-round of rookie drafts. This is a fair draft position for him right now, but we should be prepared to take him in the late-first-round if he lands on a good NFL team that uses a Day-Two pick on him. His abilities in the passing game will make him useful early on in PPR leagues. He's also more than capable of being a three-down back if given the opportunity.