The Path to a WR1 Fantasy Season: D.K. Metcalf
Editor's Note: This profile is part of our annual Path to a Fantasy WR1 Season series. For our methodology and an outline of the process, make sure you read the 2020 Path to WR1 Series Primer.
As the Path to a Fantasy WR1 Season series has shown us so far, fantasy wideout depth runs deep in 2020. This is the sixth article in the series so far, and more are in the works. Every player profiled in this series has a legitimate shot to finish 2020 as a WR1, and this edition is no different.
Not many receivers, or humans for that matter, are built like DeKaylin "D.K." Metcalf. He classifies as an elite athlete, checking in with a 99th percentile 40-yard dash, 99th percentile speed score, 97th percentile burst score, and 91st percentile catch radius. But as we know, physical attributes alone don't automatically equate to success on the football field. Let's take a look at what else Metcalf will need to join the fantasy elite.   
2019 Season Recap
Metcalf got on the field immediately as a rookie but it was clear he was still a very raw player. As you can see in the following route chart from NFL Next Gen Stats, he had one specific role early in the season: line up wide left and run deep.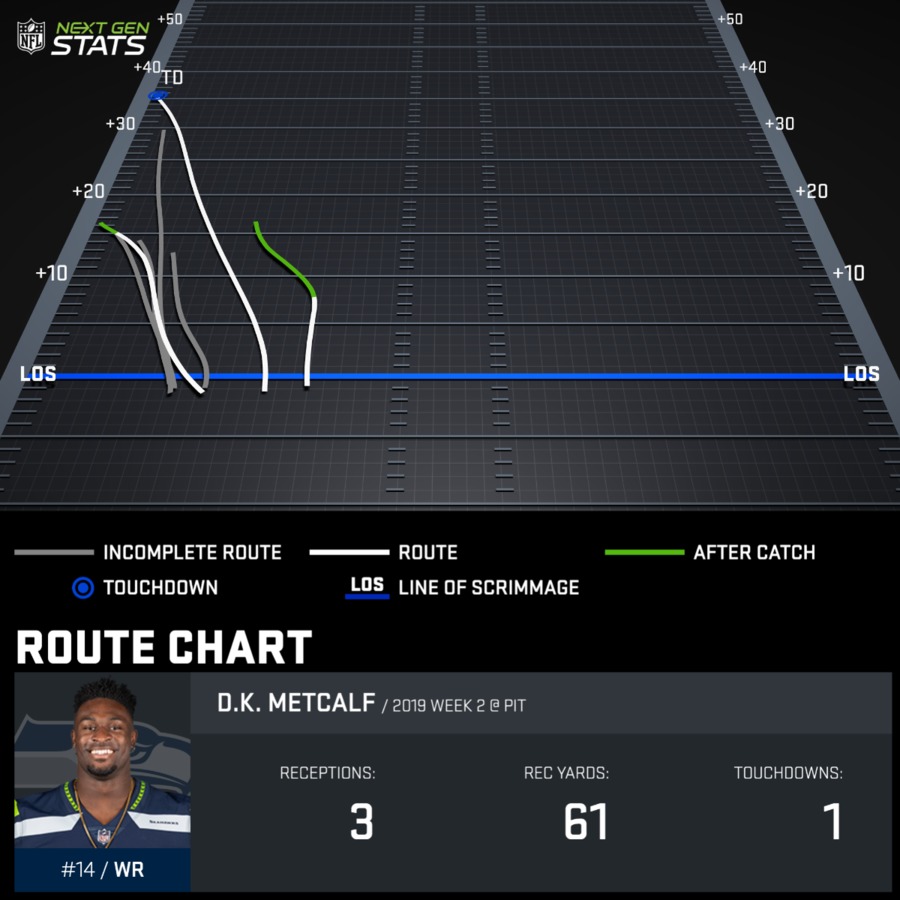 He made the most of that role early in the season, hauling in two deep touchdowns, but only saw 5.2 targets and 2.7 catches per game over the first six weeks.
As the season moved on Metcalf clearly made improvements and began to earn more trust from Russell Wilson and his coaches. Over the last ten games of the regular season, his targets jumped up to 6.9 per game. His route tree continued to grow as the season progressed. Just look at his route chart from the 2019 Wild Card game compared to the chart from Week 2.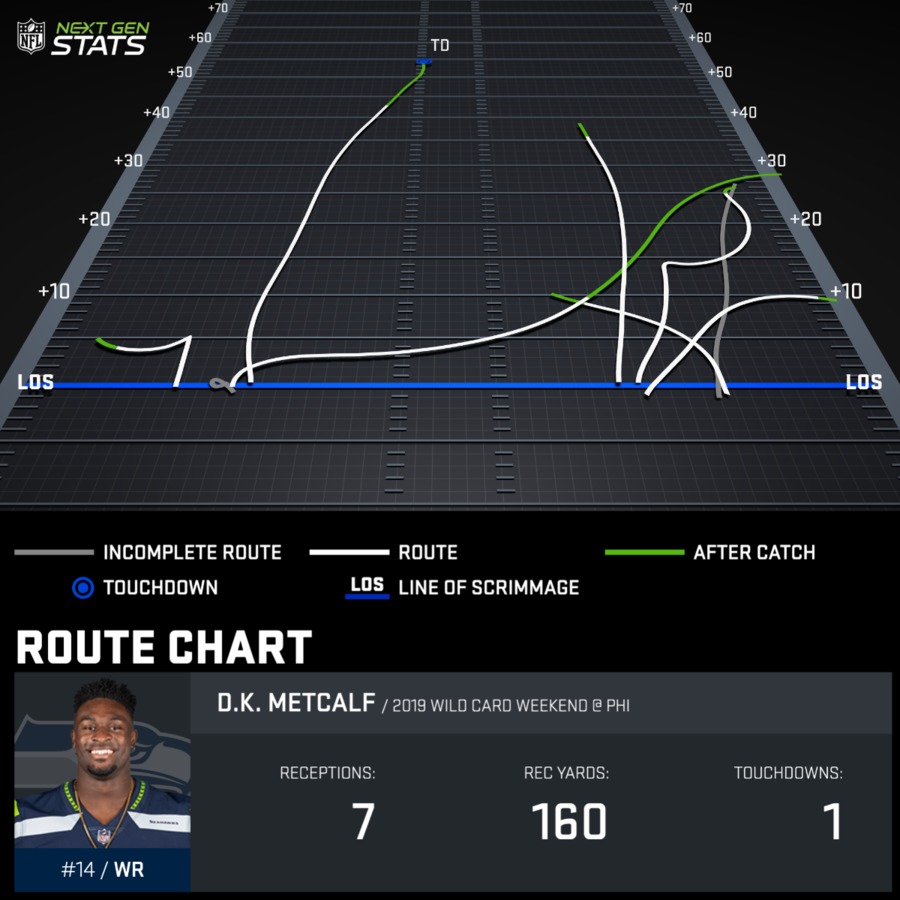 Metcalf clearly made huge strides as a receiver from the beginning to the end of the 2019 season.
He finished the regular season with 900 yards and seven touchdowns on 58 catches; enough to finish as the WR32 on the season. He added another 219 yards and a touchdown on 11 catches in two playoff games.
The Path for 2020
Seattle has earned the reputation as a run-first team, and deservedly so. There is a difference however between the Seahawks and other run-heavy teams like Baltimore and San Fransisco, and his name is Russell Wilson. I could ramble on about what a great quarterback Wilson is, but since this article is about Metcalf, I'll just let this Tweet summarize it:
Russell Wilson among 158 QBs to start 50+ games since 1970:

Completion rate: 64.5% (No. 11)
Pass TD rate: 6% (No. 1)
INT rate: 1.8% (No. 6)
QB rating: 101.2 (No. 2)
Yards per attempt: 7.9 (No. 4)
Adjusted yards per attempt: 8.3 (No. 2)
…
Pass attempts per start: 29.5 (No. 104)

— Ian Hartitz (@Ihartitz) May 13, 2020
Simply put, a target from Russell Wilson is more valuable than a target from Lamar Jackson or Jimmy Garoppolo. After seeing the improvements in his game in 2019, it's tough to envision Metcalf not seeing a target increase in 2020.
Target Share
Speaking of targets, Metcalf saw exactly 100 in 2019, just over 19% of Wilson's 516 pass attempts on the season. The lowest target share for a WR1 last season was 20%, a feat accomplished by both Kenny Golladay (WR6) and Amari Cooper (WR9). Metcalf's rookie target share came in just shy of the 20% benchmark. but there are reasons beyond natural progression to believe we'll see his target share increase in 2020.
Seattle brought in Phillip Dorsett over the offseason, who poses more threat to Tyler Lockett's targets than Metcalf's. Lockett actually led the Seahawks with a career-high 21% target share in 2019, but at nearly the exact same size and speed as Dorsett, he could easily lose a handful of targets to Dorsett. Greg Olsen was also added in the offseason, but the veteran tight end is more likely to take targets away from Jacob Hollister and the oft-injured Will Dissly. There doesn't appear to be any new competition for Metcalf's valuable outside targets.  
Catch Rate
Metcalf hauled in 58% of the passes thrown his way as a rookie. That's a respectable enough number and one that's capable of netting a WR1 season, but once again it's worth looking at how Metcalf grew as a rookie. The first eight games of the season he caught just over half of his targets at 51.1%. The final eight games it climbed to 63.3%. Sustaining that kind of catch rate in 2020 would give his chances of reaching WR1 status a huge boost.
Yards
NFL players can pile up receiving yards in a similar fashion that professional fighters win their bouts; repeated body blows over an extended time or swinging for knockout punches. Metcalf will have far more knockout swings than body blows. He averaged 15.5 yards per reception as a rookie, eighth-best among all receivers with at least 50 catches in 2019. He won't need a huge volume boost to break into the WR1 range if he can keep up the big plays.
TDs
Yes, touchdowns are volatile, but Metcalf's chances to consistently find the end zone with the Seahawks can be considered above average. Russel Wilson has averaged 31 touchdown passes over the past five seasons. If we project him for a very reasonable 30 touchdowns, Metcalf would need to catch 20% of them to hit six receiving touchdowns. With those conservative estimates, double-digit touchdowns are well within Metcalf's range of outcomes
WR1 Probability for 2020: Low (15%)
The Ballers Staff once again weighed in to get to this calculation. Most responded in the 10-20% range, though Jason was much lower at just 5%. That makes sense if you see where he's currently ranked in The Ballers WR rankings. However you look at it, Metcalf is no shoe in to reach WR1 status in 2020.
Conclusion:
Personally, I'm all in on Metcalf for 2020. His situation isn't all that different than his former Ole Miss teammate A.J. Brown. They're both freak athletes on run-first teams that improved throughout their rookie seasons. Brown had insane, likely unsustainable, efficiency at the end of the season but Metcalf has one the league's best quarterbacks throwing him the ball. The biggest hurdle for Metcalf will be overtaking teammate Tyler Lockett in Seattle's offense. If he can do that, the path to a WR1 season is clear.