Fantasy Football Film Study: Is Julio Jones a Poor Red-Zone WR?
If you're an Atlanta Falcons fan, you can loathe the struggles the Falcons have had in the red zone. They ranked 23rd in the league in RZ Scoring % in 2017. To say it was rough is an understatement.
If you have been a Julio Jones owner, you understand the frustration that this topic might bring up after only 3 TDs total on the year.
And if you consider yourself a savvy fantasy football, it's easy to look at the all-world WR's red-zone woes as simply a symptom of a kryptonic chronic condition. Alliteration aside, here is how Julio fared inside the 20 over the last 3 years:
| | | | | | |
| --- | --- | --- | --- | --- | --- |
| Year | Completions | Targets | Catch % | TDs | Team RZ % |
| 2015 | 13 | 22 | 59.09% | 5 | 32.35% |
| 2016 | 5 | 11 | 45.45% | 3 | 11.22% |
| 2017 | 5 | 18 | 27.78% | 2 | 25.0% |
The glaring red flag was Jones' catch % that dropped dramatically to a percentage 2nd worst among pass-catchers seeing over 15 targets, besting only Mike Evans. According to PlayerProfiler.com, Julio had the 5th best End-Zone Target Share in the league. 5 completions on 18 targets can be read in a number of different ways. I took word-for-word quotes from some online message boards regarding Julio's RZ woes and who's fault it is:
"OC Steve Sarkisian is a %$@! bum. He has screwed up that offense. It's his fault."
"It's Jones. He was a crappy route runner with mediocre hands as a prospect coming to the league. He seems to just beat people with physical skills and a great QB, but when the field shrinks he's exposed for the mediocre player he is...Jones is awful when he can't stretch the field or beat someone on a developing timing play. He straight up sucks when there's no room to beat someone one on one due to raw physical skill."
"How many of those were catchable over the season, though? I watched most of the games. Just the targets alone don't tell the whole story. I'm not surprised to see Julio in the top 5 for RZ but having watched [him] play, I can tell you, [he] gets a lot of garbage targets in the red zone."
"At some point don't you think it just falls on Julio not being that good in the red zone? Blame keeps being thrown on OC after OC but there's one common denominator here"
"Seriously… Guy is just allergic to the end zone."
"He just isn't a big-time WR in big spots…I'd rather have JuJu over Julio next year…"
Instead of creating an empty narrative based solely on statistics, let's find out "What's On Tape" and look at every one of Julio's 18 RZ targets in 2017 to see what happened on film.  As recently highlighted by fellow writer Keaton Denlay in The Ten-Zone is a Fantasy Gold Mine, Julio tied Michael Crabtree for the 4th-most 10-zone targets in 2017. According to his research, Keaton brought up that a "ten-zone target is more than 2.5 times more valuable than a red zone target that comes between the 20 and the 10." AccorThose targets on film can probably tell us even more if this superhuman WR is inept in-close.
Find out where Andy, Mike, and Jason have Julio Jones and other WRs projected in the Ultimate Draft Kit.
The Red Zone Review: Julio in 2017
Week 2 vs. GB
[2Q 11:17 1st Opp 2] Wide throw by
Matt Ryan
. Jones didn't use his body as much as he could to create separation. Packers CB Kevin King played him tight.
Week 3 @ DET
[1Q 9:58 2nd Opp 20] Ryan recognized he had the right formation/scheme to get Julio 1-on-1 on the outside. Tight coverage but a definite overthrow by Ryan. Also, note this was barely an RZ target at the 20.
Week 7 @ NE
Jones became 2nd-fastest WR to 8,000 yards in NFL history in the 2nd quarter but he had 4 RZ targets in the 2nd half as the Falcons were getting annihilated.
[3Q 10:49 2nd Opp 17] Announcer Al Michaels made a note of it "
that's only the 2nd time he's been targeted in the red zone all season
". Technically it was the 3rd. A bit overthrown by Ryan. Would've been an unbelievable grab and toe drag by Julio. Schemed well by Sarkisian. [4Q 14:42 3rd Opp 1] On the 1-yard line, Jones ran a drag route from left to right. Ryan scrambling to right began falling away, throwing on the run, off his back foot. CB
Malcolm Butler
made a play on the ball but it's clear Ryan didn't lead Julio enough as he threw behind him. Collinsworth: "
Matt Ryan just does not get it in front of him..Julio had at least a step
" Of course after this play, the flash-in-the-pan
Taylor Gabriel
is given a jet sweep that is stopped on 4th down.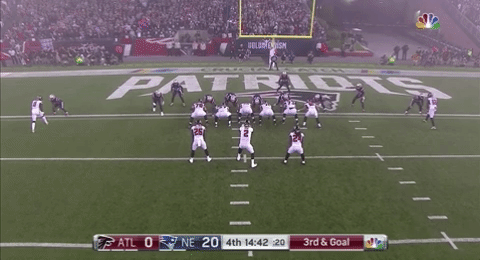 [4Q 4:41 2nd Opp 7] Lined up in the slot. 5 yard turn around. [4Q 4:13 1st Opp1]  Ryan underthrew it but Julio uses the vice grips and jumps over and wrestles the ball away from Butler for a TD.
So far… just to recap the first 6 targets we have:
#1 Incomplete. Wide throw by Ryan.
#2 Incomplete. Overthrow by Ryan.
#3 Incomplete. Slight overthrow by Ryan.
#4 Incomplete. Under throw by Ryan.
#5 Complete. 3 yard turn around flag football play.
#6. Complete. Under throw by Ryan that should've been picked but he wrestled it away from Butler
Week 8 vs. NYJ
[2Q 8:18 2nd Opp 5] Poorly placed ball by Ryan.
Morris Claiborne
pressed but literally no room.
Week 10 @ DAL 
[3Q 9:13 2nd Opp 7] Lined up in the Slot. Flag football play. Drag to the left. FYI: When players like Julio run in the slot, good things usually happen especially near the goal-line. [4Q 8:36 3rd Opp 11] This will go down as a drop on Julio. But Ryan honestly made the wrong read on the play and even admits his mistake after the play is over. The nickel corner,
Orlando Scandrick
, was playing zone. Ryan doesn't see it. Throws right to the spot.
Week 11 @ SEA
[4Q 4:29 2nd Opp 3]  The issue was this play call was dead from the start.
Jeremy Lane
has outside coverage and signals to the safety that he needs help on the inside. Julio tried to make an insane one hand grab.
Week 12 vs TB
[2Q 0:10 2nd Opp 18] This was his 1 RZ target in his insane 253-yard, 2 TD game that won people a fantasy week. There's a clear miscommunication between Ryan and Jones. Regardless, I paused the assignment watched all of his targets in this one :)
Week 14 vs. NO
[1Q 5:44 3rd Opp 10] Ryan threw out of the back of the end zone. Good coverage by Saints. Another target that should be marked down as uncatchable and a throwaway. [3Q 10:40 2nd Opp 9] Lined up in the slot. Ryan basically pushed the pass as he stared down Julio. Collinsworth said "
Looking like he's throwing at a dart board… That's a small window
" Mark it down as throwing into triple coverage.
Week 15 vs. TB
[2Q 14:14 3rd Opp 19] Dump off to Jones who was uncovered on a drag route. 17 yards that definitely is skewed based on the coverage. [3Q 1:32 2nd Opp 16] Lined up in the slot in Cover Man 2. Near impossible corner grab near the pylon. Gruden even adds in "
I'm surprised they made that throw against that coverage
"
Week 16 vs. NO
[3Q 9:42 3rd Opp 19] Out route. Rookie CB
Marcus Lattimore
all over it. Some would say he tackled Julio "NFL Blitz"-style before the ball was even there.
[3Q 0:22 3rd Opp 6]  Unbelievable catch. Ruled out at the one even though feet in the end zone. Freeman stopped on 4th and goal at the 1 on next play.
Conclusion
After examining all 18 of these targets and the context/game situations surrounding each play, I'd say 9 of Julio's 18 Red zone targets were even catchable. Two of them shouldn't even be considered a target as Ryan threw it out of the back of the end zone. So his 27.78% RZ catch rate should be more like 50%. His teammate Mohamad Sanu's 6 RZ TDs were also a bit fluky on 11 targets. Statistics-wise Julio is due for some positive regression in 2018 in this department. Although we have a small sample size, there is nothing in the film that suggests that Julio is somehow lacking in terms of the usual RZ skills. Scouts know this guy is a physical freak with the strength, body control, and mitts to be able to make grabs in short areas.