Fantasy Football: The Case Against Kirk Cousins
This article is part of The Fantasy Court series, be sure to check out The Case For Kirk Cousins by Keaton Denlay (@KeatonDenlay).
Check out where Andy, Mike, and Jason have Kirk Cousins ranked.
Opening Statement
Your honor, I plead with you to use caution and foresight in ruling in the case of Kirk Daniel Cousins. The defendant is charged with identity theft and, most of all, the travesty of deceiving the masses into thinking he is an elite fantasy QB. I argue that Cousins is far from a difference maker at his current ADP of 8.04 right behind Andrew Luck as the 9th QB off the board according to FantasyFootballCalculator.com. Anything that my opponent brings up is mere conjecture and an attempt to bludgeon us with stats that prop up  his Kool-Aid drinking nonsense. To put it simply: Kirk Cousins is not a league-winning QB option this year.
Chemistry Chaos
One of the common, misplaced arguments I've seen this offseason with the Redskins is the implied offensive juggernaut this team will "inevitably" become. I've heard numerous analysts give praises for the assembly of weapons that Dan Snyder has put together in Washington without someone even once pausing to at least ask the question: how do we know this new marriage will work? Chemistry is something built over time on the football field especially with players who have gone through the fire together. Losing DeSean Jackson and Pierre Garcon in free agency is a big deal considering they were both 1,000 yard WRs in 2016 and constants in the organization.
Offseason signing Terrelle Pryor, albeit the impeccable physical specimen, has never had to carry the expectations of being a go-to receiver in a complex West Coast system. Josh Doctson has yet to find himself healthy enough to showcase the potential everyone lauded for when he was drafted in the 1st round in 2015. Jordan Reed and his 10,000 concussions screams a giant red flag. The running game is downright atrocious considering Rob Kelley will break camp as the team's starter, a self-proclaimed fat man. Also, Matt Cavanaugh was promoted as the new offensive coordinator when Sean McVay left town for "greener" pastures in Los Angeles with the Rams. Thus far he's shown his hand as a conservative, bland approach to the offense in the preseason.
Where's the continuity? While watching the film from Week 2 of the preseason, it was evident this offense is no slam-dunk as they struggled to move the ball going 3-and-out for the first 3 drives. The "1st teamers" honestly looked out of sync and Cousins stared down Jamison Crowder on a few attempts including one dropped INT by the Green Bay secondary.
Despite being lauded as a completion percentage maven, Cousins was putrid in the red zone ranking 32nd among QBs with a 46% completion mark despite seeing the 7th most attempts. He needs the full complement of receivers in order to truly take advantage of mismatches in the secondary and see positive regression in the TD category as 25 TDs ain't gonna cut it as a top 10 QB. Our resident fantasy therapist, Matthew Betz, thinks Reed should be avoided because of injury, which drastically changes how Cousins exploits the middle of the field especially on seam routes. All in all, I think we need to move this receiving corps from a happy, hopeful hunch to let's wait-and-see.
Film Room Mistakes
Simply looking at end-of-season box scores and fantasy stat lines does not convey to us the entire picture of what 2017 could look like for Cousins. Yeah the guy threw for almost 5,000 yards… However, we cannot simply translate one year's completion percentage or QB Rating and assume that efficiency metrics will stay status quo. The "eye test" is an ever-elusive term in fantasy circles but I believe it matters when evaluating QBs and their impending production.
I call 2015 Blake Bortles to the stand as a key witness and case precedence. While Bortles lit the fantasy world on fire finishing as a top 3 QB, the film suggested there was major regression coming in the TD department as well as a spike coming in INTs. The garbage man had an inordinate amount of back-footed lobs and careless throws which easily could have been picked off but were not. And we all know what happened in 2016. This leads me to GIF Exhibits A & B before the jury.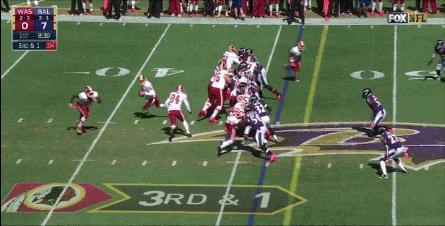 Can you count the number of elementary mistakes even a JV player would notice? The ugly footwork… the wild slingshot throw…the falling away… where's his head looking??? Unfortunately, this is the norm with Cousins being a card-carrying member of throwing off his back foot, fading away ala Brett Favre. He often trusts his arm to do the work while his footwork is sorely lacking. Going back through his 2016 tape (yes I took the time this offseason), I counted at least 8 times that Cousins had poorly thrown, inaccurate passes DROPPED by opposing defenders. These were potential interceptions averted by slippery handed cornerbacks and safeties. His 12 INTs from 2016 are his floor, if you want to look at it that way.
Although the stats may bear out that Cousins was a legit downfield thrower, his accuracy leaves something to be wanted based on the 2016 film. The end of season totals show that Matt Ryan and Cousins tied for the most completions on 20+ passes with 35. This definitely helped boost his passing yardage to a career high total of 4,990. However, what matters to us is recognizing the amount of passes that were accurate regardless if they were complete or incomplete. According to the Deep Ball Project, Cousins' accuracy percentage was only 43.2% on his attempts of 20+ air yards, ranking a pedestrian 20th among qualified QBs. That mark was slightly better than the nightmare season that was Ryan Fitzpatrick, Browns rookie Cody Kessler, and worse than Rams placeholder Case Keenum. In other words, Cousins' deep ball "prowess" is really just a disguise for his relative inaccuracy.
He also needs to work on his kneeling game. Never forget…
2017: No Cake Walk Schedule
I'm also banking on regression in Cousins' overall yardage that was propped up by some fortunate soft coverages. The Redskins have replaced a cupcake 2016 slate with one of the league's toughest in 2017. In 2016, the non-divisional matchups included the some of the worst TD secondary offenders in the league.
[lptw_table id="44200″ style="default"]
As you can see, these puffballs have been replaced with the best of the best. Not to mention the improvement of the Eagles pass defense and the fact the Skins play the New York Giants twice, who ranked 2nd in the league with just 15 passing TDs allowed. According to the Football Perspective's Implied SRS Ratings for the 2017 schedule, the Redskins rank 23rd in the league in terms of Vegas lines. Not good. On Scout.com Washington is projected with the 6th hardest schedule in terms of fantasy points given up to the QB position. According to Warren Sharp, the Redskins only play three bottom-10 defensive teams, the fewest in the NFL. In other words, Captain Kirk is not going to "like that".
Closing Argument
If it hasn't been completely clear yet, I believe the general public should be deeply warned of trusting in the quirks of Curt … I mean Kirk Cousins. His weapons have been hyped yet never played an actual down of real NFL football together. We cannot assume their cohesion nor inherently possessing the chemistry needed to become a potent NFL offense. His red zones woes are worrisome and his game tape is begging for a jump in interceptions and a digression in down-the-field throws. When I look at his schedule and the gauntlet fantasy playoff lineup ahead of him, it's time for this Captain to go down with the ship… in burning flames. Not the good type of flames but as in burnt fantasy toast.