2022 NFL Draft Rookie Profile: Isaiah Spiller (Fantasy Football)
Texas A&M doesn't have a history of producing NFL-caliber running backs. The Aggie with the most NFL production at the position is Greg Hill, who rushed for 3,218 yards over his six-year career in the late nineties. Christine Micheal was wide awake for a brief period with Seattle but fizzled out quickly. Trayveon Williams is currently buried on the Cincinnati depth chart.
Enter Isaiah Spiller. He's currently viewed by many as the top running back prospect of the 2022 rookie class, as evidenced by his ranking (as of this publishing) as the top running back on the NFL Mock Draft Database big board. Let's dive into his background, college production, and film to get an idea of the expectations we should have for Spiller as he enters the NFL. 
Editors Note: This article is part of our Rookie Profile series going on until the 2022 NFL Draft. For more on each rookie, check out Andy, Mike, and Jason's exclusive rookie rankings and production profiles found only in the Dynasty Pass, part of the UDK+ for 2022.
College Production
| | | | | | | | | | | |
| --- | --- | --- | --- | --- | --- | --- | --- | --- | --- | --- |
| | Games | Attempts | Attempts/game | Yards | Yards/Att | Rush TDs | Rec | Receiving Yards | Yards/Rec | Rec TDs |
| 2019 | 13 | 174 | 13.4 | 946 | 5.4 | 10 | 29 | 203 | 7 | 0 |
| 2020 | 10 | 188 | 18.8 | 1036 | 5.5 | 9 | 20 | 193 | 9.7 | 0 |
| 2021 | 12 | 179 | 14.9 | 1011 | 5.6 | 6 | 25 | 189 | 7.6 | 1 |
Spiller, a four-star recruit out of high school, arrived in College Station in 2019 after rescinding his original commitment to Oklahoma. He was immediately thrust into a workhorse role, racking up more carries as a true freshman than all of the other Aggie running backs combined. His bell-cow role continued through his sophomore season in 2020, when his rush attempts/game peaked at 18.8.
Spiller's 2021 numbers aren't as impressive as the other backs at the top of this class. He finally had a capable teammate to share time with in the Texas A&M backfield, which led to a dip in his usage. Devon Achane, a world-class sprinter, made a name for himself with a 7.0 yards/carry average on 130 attempts as a sophomore. While Spiller still led the backfield, Achane's impact was certainly noticeable. Despite the slight decrease in usage on a per-game basis during his junior season, Spiller's season-long numbers were incredibly consistent over this three-year college career.
Measurables
| | | | |
| --- | --- | --- | --- |
| Height | Weight | 40-Yard Dash  | 247 Sports |
| 6'1" | 215 lbs | 4.58 (HS) | 4-star recruit |
At 6'1", Spiller is on the tall side for NFL running backs. His height-weight combination is in the same range as active running backs Chuba Hubbard, Melvin Gordon, and Joe Mixon. You can check out how his measurables compare to the rest of the 2022 draft class in the Dynasty Pass, which is included in the UDK+.
His 40 yard dash time, which is from high school, is slightly slower than the average NFL running back. Of course, this is being written before the NFL combine. He's likely to improve on that number and could see his draft stock rise even higher if he can post a sub 4.5 second 40 time.
What's on Tape
Games Viewed: Arkansas (2021), Colorado (2021), Auburn (2020), Tennessee (2020), Florida (2020)
He can cut on a dime
When watching Spiller's film, the word "cut" shows up more than any other in my notes. He has the innate ability to see an opening and immediately change direction to hit the hole. The clip below, where Spiller makes two jump cuts as he picks his way through traffic for a positive gain, is just one of many that I witnessed while watching his tape.
He can do it ALL
Spiller doesn't necessarily excel at any particular trait, but he also doesn't have any glaring weaknesses. He has the vision, patience, and burst you like to see for ball carriers, but he also possesses all of the ancillary skills you look for in a fantasy running back.
Let's start with his pass-catching ability. Spiller isn't an elite route runner, but he has great hands and is comfortable catching the ball anywhere on the field. While he spends most of his time in the backfield, he would occasionally line up in the slot or out wide. When he catches the ball, he immediately turns upfield and racks up YAC. There are multiple catches I could have highlighted, but the clip below of Spiller's hands stood out as a great example of his pass-catching ability.
But let's not stop there. Spiller has no problem catching, running, or blocking. Pass blocking is a prerequisite for a three-down back, and Spiller looked comfortable helping protect the edge or taking on a free blitzer up the middle when called upon. What's more, he also showed a willingness to run block when asked. Whether blocking for a wideout on an end-around or lining up as fullback to lead block for a backfield mate, Spiller doesn't mind mixing it up with defenders.
What's NOT on Tape
Top End Speed
Spiller isn't slow, but he isn't going to be running away for NFL defenders. Even at the college level, defensive backs don't seem to have a problem running him down if they take a good angle. It isn't a major flaw, but don't expect Spiller to top his fantasy projection on a single touch.
Ball Security
Ball security is a tough thing to judge. Spiller isn't reckless with the ball, but he fumbled it eight times over his three-year college career. Often it was while he fought for a few extra yards, though sometimes it was clear that he was carrying it a bit too carelessly.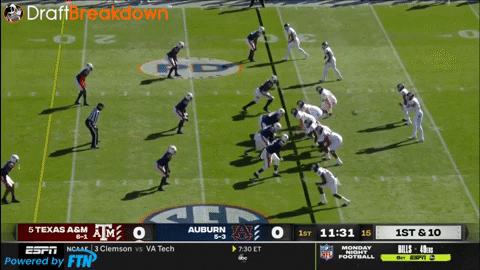 Much like drops, I don't subscribe to the theory that fumbles are a death knell to a player's fantasy value. Unfortunately, some NFL coaches will be quick to punish a fumble like the one in the above clip with an extended ride on the pine. It's a small, but realistic, risk that Spiller fumbles in a game and finds himself in the doghouse early in his career. 
2022 Fantasy Outlook
Spiller is projecting to be one of, if not the top, running backs drafted in this class. He has all the tools to be a three-down back in the NFL. He isn't as talented as Najee Harris, but if drafted to the right situation, he could see the volume to produce a similar rookie season. Houston, Atlanta, and Miami are teams that could provide that type of workhorse opportunity right out of the gate.
Unfortunately (for fantasy) few teams implement a true workhorse back in today's NFL. Spiller should still be a productive fantasy back in a shared backfield, but it will be very dependent on his landing spot. He won't be able to reach his true ceiling if he's cast as a two-down back on a team with a traditional third-down running back.
The worst-case scenario for Spiller would be getting selected by a team with an established backfield that drafts him as a luxury pick. If that's the case, he'll be extremely valuable insurance back with big dynasty upside, but would need to be pushed down fantasy draft boards in redraft leagues.