2022 NFL Draft Rookie Profile: George Pickens (Fantasy Football)
As somebody who fell in love with the NFL as a child in the nineties, I was really hoping that George Pickens was related to formal Bengal wideout Carl Pickens. There was nothing better than watching Jeff Blake connect on a deep rainbow to Pickens, especially when that potent Cincinnati stack was part of the fantasy football team I shared with my father. 
Alas, there is no relation between Carl and George, but we can make another connection between the incoming rookie wideout and the Bengals. Pickens has been compared by some to fellow former Georgia Bulldog A.J. Green. It's tough to picture Pickens following Green's path to Cincinnati, but he'll certainly be selected by an NFL team in the upcoming draft. Let's dive into his history, production, and film to see how he projects at the next level. 
Editors Note: This article is part of our Rookie Profile series going on until the 2022 NFL Draft. For more on each rookie, check out Andy, Mike, and Jason's exclusive rookie rankings and production profiles found only in the Dynasty Pass, part of the UDK+ for 2022.
College Production
| | | | | | |
| --- | --- | --- | --- | --- | --- |
| Season | Games | Rec | Yards | Yards/Rec | Rec TDs |
| 2019 | 12 | 49 | 727 | 14.8 | 8 |
| 2020 | 8 | 36 | 513 | 14.3 | 6 |
| 2021 | 4 | 5 | 107 | 21.4 | 0 |
Pickens was one of the top-ranked wideouts of the 2019 recruiting class. The Alabama native initially committed to playing for Auburn before changing his mind and heading to Athens to play for Georgia. He made an immediate impact, leading the powerhouse Bulldogs in both receptions and receiving yards while tying D'Andre Swift for the team lead in total touchdowns. His 18.5-year breakout age puts him in the 96th percentile.
His production took a step back in the COVID modified 2020 season, in part due to the departure of quarterback Jake Fromm. He still led Georgia in receptions and receiving touchdowns, while finishing one yard short of the team receiving yard lead. He came on strong at the end of the season, racking up 261 yards and three touchdowns in his last two games.
A year ago, there were high hopes for Pickens headed into the 2021 season. Unfortunately, he tore his ACL on the fourth day of Georgia's spring practices. His junior campaign was in doubt, but after a successful rehab, he returned for the end of the season. His play was limited but still made an impact, including the highlight reel catch in the National Championship game victory over Alabama.
Measurables
| | | | | |
| --- | --- | --- | --- | --- |
| Height | Weight | 40-Yard Dash  | Hand Size | 247 Sports |
| 6'3" | 195lbs | 4.47 sec | 8.75 in | 5-star recruit |
Pickens comes in taller and lighter than the average NFL wideout. Despite his slender frame, physicality wasn't a problem for him in college, though NFL trainers may try to get a little extra muscle onto him to hold up at the next level. His 40-yard dash time is respectable, especially given his height and the fact that he ran it less than a year after suffering a torn ACL. He has relatively small hands for a receiver of his size, but it hasn't generated a Kenny Pickett type of panic. 
What's on Tape
Games Viewed: Alabama (2021 National Championship), Cincinnati (2020), Missouri (2020), Mississippi St. (2020), Baylor (2019)
Pickens is a prototypical outside wide receiver
If you were building an X-receiver from scratch, you'd start with Pickens' frame. This shows up in his film, where he lined up out wide an overwhelming majority of the time. He has great sideline concentration and does an excellent job of toe-tapping to secure catches in bounds. He looks good running all of the classic routes from the outside. Hitches, slants, outs, and especially fades. The clip below could be used in coaching videos as an example of how to perfectly run the route to the pylon.
Strong hands
Sure, his hands may be smaller than you'd like to see at the position, but Pickens has no trouble hauling in passes. There are a handful (no pun intended) of concentration drops mixed into his film, but overall I'd consider his hands a strength. There are far more examples of him high-pointing the ball, snatching it up just before it hits the turf, or simply plucking a tough pass out of the air away from his body.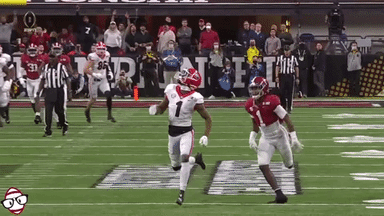 He isn't phased by physicality
There are numerous examples on film of Pickens fighting through contact to make a catch. He can box out and high-point with the best of them, but even more impressively, he routinely continues to play through contact to make the grab. He frequently draws pass interference calls but retains his concentration and secures the ball anyway. In the clip below, the defender makes no play on the ball while he attacks Pickens' facemask, but he still spots the ball, catches it in the endzone, and stays in bounds.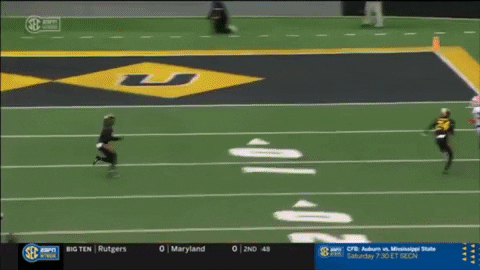 What's NOT on Tape
Creative use from the slot or in motion.
While it's true that Pickens thrives outside, he rarely ever had a chance to show what he could do elsewhere in the formation. He only lined up in the slot 7.5% of the time, 83 total plays over his collegiate career. While he does run some nice routes and make a few big plays from the slot, Georgia frequently ran the ball in the opposite direction of Pickens when he lined up there. He was put in motion even less often. A creative offensive mind could get more out of Pickens as a pro, but we certainly don't see much of it on his college tape.
Consistent effort
Pickens' effort was all over the place on film, though nobody works harder than him when the ball is headed his way. He even shows great blocking effort when tosses or reverses are schemed to run in his direction. When the ball is run up the middle or away from him, however, he frequently takes the play off while lightly jogging downfield looking completely disinterested. Those plays off rarely had an impact on the outcome of a play, but they could certainly rub some NFL coaches the wrong way.
2022 Fantasy Outlook
According to Grinding the Mocks expected draft position, Pickens is set to go in the middle of the second round as the seventh wide receiver off the board. Strange things can happen in the draft but if he gets that kind of draft capital, he'll get a real chance to contribute as a rookie. 
Landing spot is critical for wideouts entering the NFL. If he goes to a team with an accomplished quarterback and available targets, he'll have a solid chance to be fantasy relevant as a rookie. More likely, however, Pickens will need time to develop. His profile as a prototypical outside receiver could eventually lead him to become a target hog in the NFL, which is always a valuable fantasy asset. Having just turned 21 years old in March, he makes for a compelling rookie pick in dynasty formats.