2022 NFL Draft Profile: Kenny Pickett (Fantasy Football)
Last year's heralded quarterback class saw five quarterbacks go off the board in the first round of the NFL draft, all within the first 15 picks. The class of 2022 isn't getting the same attention, but, according to Grinding the Mocks, five quarterbacks are in play for the first round again this year. As of this writing, Kenny Pickett is narrowly projected to be the first of the group selected.
It's been a long road for Pickett, who started his college career way back in 2017. Let's take a look back down that long road and see if we can figure out where it will lead when he enters the NFL.
Editors Note: This article is part of our Rookie Profile series going on until the 2022 NFL Draft. For more on each rookie, check out Andy, Mike, and Jason's exclusive rookie rankings and production profiles found only in the Dynasty Pass, part of the UDK+ for 2022.
College Production
| | | | | | | | | | | |
| --- | --- | --- | --- | --- | --- | --- | --- | --- | --- | --- |
| | Games | Cmp | Att | Cmp % | Pass Yds | Y/A | Pass TDs | INTs | Rush Yds | Rush TDs |
| 2017 | 4 | 39 | 60 | 59.1 | 509 | 7.7 | 1 | 1 | 93 | 2 |
| 2018 | 14 | 180 | 310 | 58.1 | 1969 | 6.4 | 12 | 6 | 220 | 3 |
| 2019 | 12 | 289 | 469 | 61.6 | 3098 | 6.6 | 13 | 9 | 110 | 2 |
| 2020 | 9 | 203 | 332 | 61.1 | 2408 | 7.3 | 13 | 9 | 145 | 8 |
| 2021 | 13 | 334 | 497 | 67.2 | 4319 | 8.7 | 42 | 7 | 233 | 5 |
When Pickett's collegiate career started in 2017, he was backing up future Cowboys stand-in quarterback Ben DiNucci. By mid-season, the two quarterbacks were platooning and, by the end of the season, Pickett had taken over as the full-time starter. He threw for a touchdown and rushed in two In the season finale, where he led a 5-7 Panthers team to an upset win over the second-ranked Miami Hurricanes.
His next three years weren't exactly spectacular. From 2018 to 2020, he led Pittsburgh to a 15-11 record and a few bowl games. He was barely on the NFL draft radar. He decided to take advantage of the NCAA's extra year of eligibility from the COVID pandemic to return for a fifth season with the Panthers. It was a good decision on his part.
Pickett absolutely exploded in his fifth collegiate season. He threw more touchdown passes in his super-senior season than his other four combined. He led Pittsburgh to an ACC championship, broke Dan Marino's school touchdown record, and finished third in the 2021 Heisman Trophy voting. For a visual of his meteoric rise, check out this graph showing where Pickett's been going in mock drafts over the last year.
Measurables
| | | | | |
| --- | --- | --- | --- | --- |
| Height | Weight | Hand Size | 40-Yard Dash  | 247 Sports |
| 6'3" | 217 lbs | 8.5 in | 4.73 sec | 3-star recruit |
There aren't any concerns when it comes to Pickett's height or weight. Both are right in line with the average NFL quarterback, which you can see if you head over to the Dynasty Pass profiles. It gets more controversial, however, when considering the size of his hands. 
perspective on Pickett's 8.5 inch hands

of 663 QBs w measured hand sizes since 1987, only 9 had smaller than 8.5" hands

there is no QB in the NFL with 8.5" hands

there has been no QB to enter the NFL in at least 5 yrs w 8.5" hands

last successful QB w 8.5" hands was Mike Vick

— Warren Sharp (@SharpFootball) March 3, 2022
When it comes to hand size, it appears the deck is stacked against Pickett. On the other hand (pun definitely intended), just two short years ago, there were overblown concerns over Joe Burrow's hands, which are a massive (note: sarcasm) half of an inch larger than Pickett's.
His 40-yard dash time should also be noted. He didn't blow the doors off with his 4.73 second time, but it was the fastest among the class that chose to run. While that isn't blazing speed, it puts him in an interesting group of QBs that includes Patrick Mahomes (4.80), Josh Allen (4.71), and Aaron Rodgers (4.76).
What's on Tape
Games Viewed: Wake Forest (2021), Tennessee (2021), Miami (2021), Duke (2021), Louisville (2020), Penn State (2019), Miami (2017).
He can pile up points on the ground
Pickett's rushing stats don't look special at first take, but you have to consider the ridiculous NCAA stat-keeping tradition of counting sack yardage against quarterback rushing yards. He has plenty of potential to rack up fantasy points on the ground in the NFL.
If you paid any attention to the college football championship season in 2021, you likely saw Pickett's fake slide touchdown run that broke the internet and literally changed the rules of NCAA football in the ACC Championship game.
BREAKIN– the #FakeSlide has been outlawed in NCAA Football Call it the Kenny Pickett rule

— Bob Pompeani (@KDPomp) December 9, 2021
If you haven't seen it, I highly recommend doing a quick Google search. Instead of re-posting that amazing play here, I wanted to share a less infamous clip highlighting Pickett's rushing ability during his freshman season upset victory over Miami. I struggled to choose which impressive touchdown run to share, so here are both. Note the time, score, down, and distance of each clip as evidence of Pickett's moxie.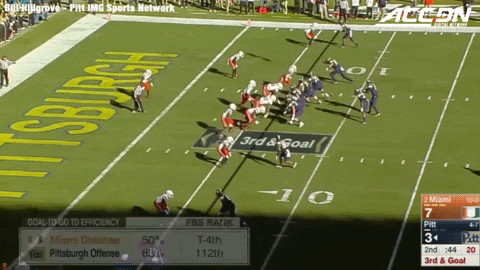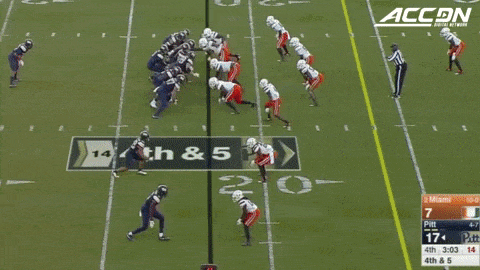 Fantastic ability to throw on the run
I already knew from highlight-reel clips that Pickett was mobile, but I didn't realize how good he was at throwing on the run until doing the deep dive into his film. Sometimes these throws came on designed rollouts, but the most impressive examples came when he broke the pocket and was a threat to run, like the clip below. Instead of sprinting toward the sideline or goalline, he finds his receiver in the back of the end zone and delivers an on-target dart.
Sufficient arm strength and accuracy
Pickett's arm strength doesn't jump off the screen, but he certainly has enough to make all the necessary throws in the NFL. He throws a nice deep ball and can get the ball from the far hash to the sideline on out-breaking routes. He can set up and deliver a frozen rope when he has the time to set his feet and drive the ball.
It's a similar story when it comes to his accuracy. There are numerous on-film examples of Pickett hitting tight windows and perfectly leading receivers deep downfield. There is a fair share of off-target passes sprinkled in, but overall, Pickett can be considered an accurate quarterback.
What's NOT on Tape
Staying in the pocket to progress through reads
Pickett throws a good ball from the pocket but is even better on the run, which is probably why he often looks to scramble sooner than he probably should. In the following clip, he could have hit the running back over the middle for a positive gain on first down. Instead, he tried to scramble, was hit from behind, and lost the ball.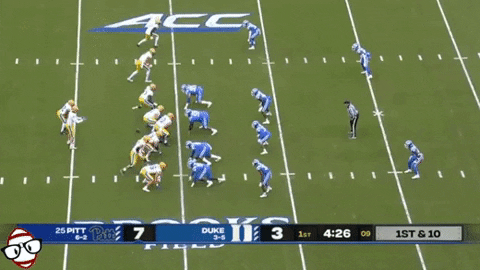 Fumbles are a legitimate concern for Pickett. He put the ball on the ground 26 times in college, and his historically small hands will make it even tougher to secure an NFL ball. While his ability to make plays on the move like the ones I highlighted earlier is a plus, those plays won't come as easy against NFL defenders.
Experience
It's tough to quantify the experience gained by starting 50 college games. Pickett has been through a lot in his five-year collegiate career, from winning the starting job during his freshmen season to leading Pittsburgh to the school's first ACC Championship and heading to New York as a Heisman finalist. Many of the intangibles that Pickett developed over his five collegiate seasons won't show up on tape.
2022 Fantasy Outlook
There are plenty of teams in need of an upgrade at quarterback, and if they choose to go with Pickett as their solution, he'll likely get on the field sooner than later. Carolina, Denver, Washington, New Orleans, and Pittsburgh are all teams that need a new signal-caller. Each of these teams has some intriguing talent for a new quarterback to work with right away. If any of them spend first-round draft capital on Pickett, he'll be in line to enter the regular season as the starter with some talented skill position players around him.
Still, he'd be nothing more than a late-round flier in one-quarterback redraft leagues. His rushing ability, however, would make him an intriguing second quarterback with upside to stash at the back of your roster, just in case he sets the league on fire early in his rookie season. He's also a great late-round pick in best ball drafts right now because his ADP will sky-rocket if he gets drafted to be a starter.
If Pickett slips out of the first round or gets selected by a team with an entrenched starting quarterback, both his fantasy stock would take a massive hit. He'd be off the board in re-draft leagues and drop considerably in dynasty formats. Investing in a 24-year-old rookie backup quarterback would be a tough ask.