2020 NFL Draft Rookie Profile: TE Brycen Hopkins (Fantasy Football)
The fantasy world is starved for TE production. Last season, there was a pretty clear break between the top-7 guys at the position and all of the others. Most of us play in a 10-man or 12-man league, so that creates some positional disparity for half the league to overcome. We need more good fantasy TEs.
Brycen Hopkins has great size, speed, and was voted AP All-American 1st team and best TE in the Big 10 in 2019, so there is hope that he can make the leap into the fantasy top-10. His dad (Brad Hopkins) is a former NFL offensive lineman and Brycen showed a nose for the endzone during his time at Purdue. The question is whether or not he can buck the rookie TE trend and be relevant year 1?
We're going to take a hard look at his college stats, what he did at the combine, and every snap of four games he played at Purdue to help you decide if he is the TE you want on your fantasy team in 2020.
Note: For more on the 2020 rookie class, check out all of our 2020 NFL Draft content and stay tuned to the Fantasy Footballers podcast for April's Rookie Preview show where the Ballers breakdown each position heading into the draft
College Production Profile
[lptw_table id="162939″ style="default"]
Hopkins was not a full-time starter until his Junior year in 2018. During his 1st two seasons, he only started one game but appeared in just about every game the Boilermakers played. More importantly, he proved he was good at finding the end zone in those 1st two seasons. During his Freshman year, while only catching ten balls, he scored four TDs and added another three TDs as a sophomore. That's seven TDs on just 35 receptions as a part-time player in his 1st two years.
He took over as the starter as a Junior and basically doubled up his reception totals. It was clear that he was going to be a receiving threat for Purdue and his 17.1 YPC was among the best of any TE in the country in 2018. In 2019, his production took a huge step forward, as he set career marks with 61 receptions, 830 yards, and seven TDs, though he did take a step back in the YPC category. His receptions, yardage, and TDs were all top-5 among the nation's TEs in 2019.
NFL Scouting Combine Measurements
[lptw_table id="162941″ style="default"]
Hopkins showed well at the combine, finishing among the top-10 TEs in every drill and the top-5 in the 40 and bench press. It was reported that he has met with 29 of the league's 32 teams. His combine numbers are very similar to what we saw out of Irv Smith last year before he was drafted in the middle of the 2nd Round of the NFL Draft.
What's on Tape
While evaluating a TE, I look for two things: 1. How well does he catch the ball? and 2. How well does he block? To get substantial playing time in the NFL, you either need to be good at both or great at one of them.  Obviously, one of these things, catching the football, translates far more into a player's success in fantasy football so when it comes to my conclusion, that will be more heavily weighted.
Games Viewed: Nebraska (2018), Maryland (2019), TCU (2019), and Wisconsin (2019)
1. He is a solid route runner and finds the open space
This is one of the best things about Hopkins' game. When a play is broken, he moves with his QB and finds the open space on the field. Time after time, I found myself impressed with Hopkins' route running. He runs excellent curl routes and blows by defenders when running fly routes or posts. One on one, he is going to be a matchup problem for most LBs. There is still a lot of his passing game that needs work (more on that later) but from a route running standpoint, he is fun to watch.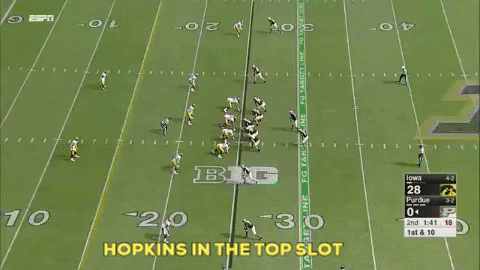 2. He can take a hit
While most times he just ran by defenders, there were a few times that his QB led him into tough situations and he took some pretty big hits. Every time he got smashed, he got right back up almost unfazed. At no point did I see him drop a ball due to fear of hit or because of an impact. It should also be noted that he did not fumble the ball once during his NCAA career.
3. Consistency is an issue
Two negatives struck me when watching his tape
He lets the ball get to his body far too much
His blocking instincts are questionable
The thing is, you will see highlight plays of him high-pointing balls and making great snags with his hands. Then, just a few plays later, he'll try to take the ball into his body instead of securing it with his hands. In fact, one of the only drops I saw him make was on a play where he tried to secure the ball into his body and just missed.
As far as his blocking, the most glaring thing that jumped out on me watching his tape was that he often spends more time looking for someone to block than actually blocking anyone. There are plays that he is clearly designed to be a blocker and doesn't hit anybody and A LOT of plays that he ends up just running into the back of one his own lineman instead of hitting someone else. It's not all bad, there are a few plays where he is decisive and straight-up blocks his guy but even they aren't all that impressive.
https://gph.is/g/aQO2nP5
My main takeaway from his tape is that he plays FAR better when he starts lined up in the slot. I'm not sure if it's a comfortability issue or what but he appears to be far more suited to play out wide than he does as an in-line tight end.
What's NOT on Tape
1. Elite QB play
At no point during my film session did I think "Man, his QB is really doing him some favors" More often than not, I saw balls thrown low that he had issues adjusting on (letting the ball get to his body) and many times he was just overlooked when he was wide open. During his Junior year, Hopkins' QB was David Blough, who went on to play with the Detroit Lions, and then during his Senior season, he dealt with a combo of freshman QBs. I don't think it was a coincidence that is YPC was far better as a Junior. Blough extended plays and threw a far better deep ball than either of the QBs he had with him in 2019. Considering the trend of the NFL is play extension with mobile QBs, Hopkins could be a godsend for the right QB.
2. He took his NFL prep very seriously
As mentioned before, the two most important things to look for in an NFL-ready TE are his receiving ability and blocking ability. In the lead up to the NFL combine, Hopkins worked on his blocking technique with his father, who played OL for the Tennessee Titans and dad called in another Titan to help with the receiving skills, former Tennessee WR Derrick Mason. Having been around the Titans a lot during their late 90s success and having two of those guys helping him get ready for his next steps shows great maturity and has coachability written all over it.
2020 Fantasy Outlook
The long and short of it is this: It's going to take a year. Brycen Hopkins may be the best TE coming out of this draft but unless he lands on an extremely needy team, he is not a great enough blocker or receiver to demand immediate playing time. Rookie TEs not named Evan Engram tend to start slower in fantasy football to begin with and Hopkins still has some developing to do.
Hopkins is a big target with a solid vertical, so I expect him to be used in the red zone a lot during his rookie campaign. While he may not get the receptions or yards needed to be a TE1, he could provide some nice TD upside. In our current fantasy TE landscape, TDs can make all the difference between an unplayable asset and a guy you can stream four or five times in 2020. While it's unlikely he will be an every-week starter for his NFL team or your fantasy team in 2020, he has the tools and potential to be a TE1 in 2021.