2020 NFL Draft Rookie Profile: Joshua Kelley (Fantasy Football)
We mostly know who the top RBs are in the 2020 class, but there are almost always rookie RBs that get drafted in the second half of the draft that make their way up the depth chart. These RBs aren't typically the most flashy or high-ceiling players from top college programs, but their ability to grind out tough yards and do everything necessary secures them a roster spot and give faithful dynasty owners and waiver-wire hawks a nice return on their investment.
Joshua Kelley doesn't posses any singular quality that separates him from the rest of the class, but he does come with good size, athleticism, production, and an impressive work ethic that allowed him to go from a virtual unknown coming out of high school to a featured weapon of an FBS school. He'll be someone to monitor as a low-risk flyer in redraft and dynasty leagues.
Editor's Note: For more on the 2020 rookie class, check out all of our 2020 NFL Draft content and stay tuned to the Fantasy Footballers podcast for April's Rookie Preview show where the Ballers breakdown each position heading into the draft
College Production
[lptw_table id="162960″ style="default"]
The biggest thing to note about Kelley's college career was his transfer to UCLA. Kelley had a late breakout in high school that resulted in only one scholarship offer from Division II UC-Davis. Kelley transferred from UC-Davis which required a redshirt 2017 season. He broke out his junior season raking up over 1,400 yards from scrimmage on only nine starts. 2019 was a bit of a down ear, but still resulted in over 1,100 yards from scrimmage and 13 TDs.
NFL Scouting Combine Measurements
| Height | Weight | 40 Yard Dash | Vertical Jump | Broad Jump | 3 Cone Drill |
| --- | --- | --- | --- | --- | --- |
| 5'11" | 212 lbs | 4.49 sec (7th) | 31″ | 121″ (9th) | 6.95 sec (1st) |
Kelley isn't a standout athlete and that shows on the tape, but he does have the prototypical size for a RB and a 68th percentile SPARQ-x score.
Games viewed: USC (2018), Washington State (2019), Utah (2019)
1. Stealing Yards
Kelley is good at 'stealing' extra yards on carries. He can turn runs that look like they should be stopped for minimal yardage into positive gains. Quite necessary given UCLA's offense. These are traits that translate well in the NFL since even the best offensive lines rarely dominate defenses the way they do in college football. The vast majority of runs require RBs to pick and scrape for yardage – not something shiftier RBs transitioning to the NFL are always prepared to do.
Kelley gives the cornerback a ride and gains an extra couple yards after two additional defenders make contact with him.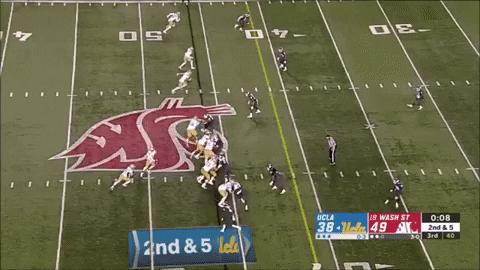 This play is why I'm giving Kelley the benefit of the doubt for some of his weaker metrics. The defense is stacked at the line of scrimmage with four defenders between the offensive tackles with hands in the dirt anticipating the run on third-and-two. This is an example where Kelley is able to elude the penetration in the middle and pick his way for the first.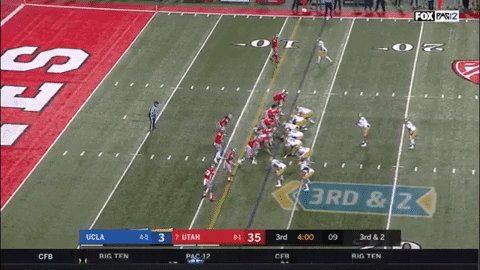 This play should have been a loss. One defender takes away the QB option and another hits Kelley deep in the backfield, but Kelley is able to fight of the first hit and turn it into an 11-yard run.
2. Vision and Manipulating Defenders
If Kelley has a trump card, it's his vision and ability to manipulate defenders. He looks to go outside on this play, but realizes at the outside motion has created a seam up the middle. His faint outside freezes the cornerback(#8) and removes the linebacker that crashed outside from making a play.
This is a nice instinctive run that made some USC defenders look a little silly.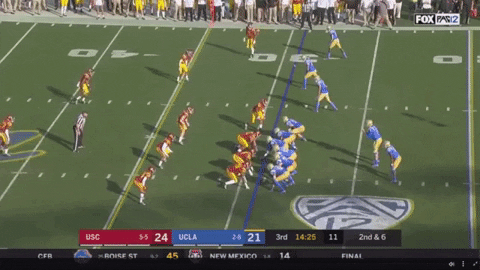 Now watch #89 from USC running like an airplane in the above play.
And now #24 from USC on the above play. To his credit he contained the play before doing somersaults.
Now watch #47 from USC who makes the tackle after getting dragged four yards.
3. Pass Catching
This was actually one of the first plays I watched of Kelley and it made me really excited about his potential as a pass-catching RB. Unfortunately, I kept waiting and waiting for another target. For whatever reason, he wasn't used frequently as a pass-catcher or even a pass-blocker. He managed 38 receptions in his two years with UCLA, but it seemed like a missed opportunity.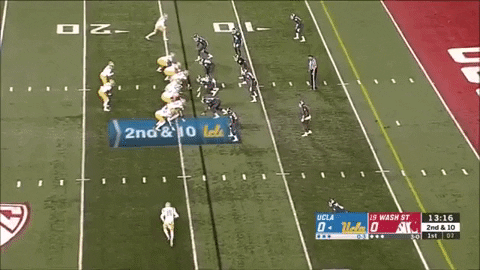 So how is he as a pass-catcher? I just don't know. We would have expected Kelley to be been schemed into the passing game more if he was an exceptional pass-catcher. It seemed like he was used more as a diversion in the passing game. Then again, he did put up a respectable 27 receptions his junior year so we know he's more than a straight two-down back.
4. The Bad
We've seen some pretty good things on tape, but some metrics aren't lining up to what we're seeing. According to Sports Info Solutions, Kelley's broken tackle rate was just 14.7% and 13.5% in 2018 and 2019 while he averaged 2.7 and 2.3 yards after contact. To put these number into perspective compared to fellow PAC-12 RBs, Myles Gaskin had a broken tackle rate of 21.6% and averaged 2.9 yards after contact with Washington in 2018 while Eno Benjamin had a broken tackle rate above 25% and averaged greater than 3.0 yards after contact each of the past two years.
This may be explained by what happens when defenses were able to penetrate up the middle. Kelley has a tendency to hesitate about a yard from the line of scrimmage. It works well when the offensive line holds its own and Kelley is able to make his cut and go. The problem starts when the penetration gums up the line of scrimmage.
Here is a play against Utah where the offensive and defensive lines fight to a stalemate on a second-and-one. If Kelley just punches it, he can probably push the pile enough for the first. Where we saw him push for the first down before, he hesitates here and loses the momentum that could have pushed the play forward for the first.

The penetration in the next video gets him to start going east-west behind the line of scrimmage resulting in another loss.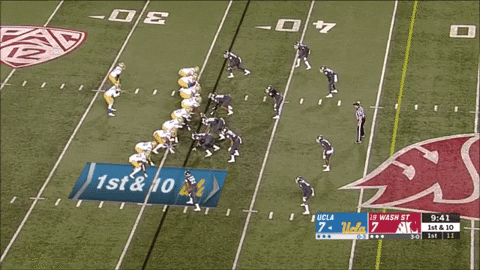 It's a blown play – there wasn't much he was going to do with this, but it highlights two possible explanations for his low yards after contact and broken tackle rate.
Not all yards after contact are the same. If a RB is first contacted by a defender in the second level, they have more room and speed to either elude the defender or overpower them. If a RB's first contact is a defensive lineman in the backfield, it's much harder for the RB to find space. UCLA's offensive line ranked 74th out of 130 FBS programs with a 19.8% stuff rate. It's possible the yards after contact and broken tackle rate were low at least in part because of UCLA's offensive line and/or offensive scheme under Chip Kelly. The 2019 game against Utah is a prime example. There's not an RB in the country that could have done much more than Kelley in that game.
Kelley's hesitation in the backfield means that he's losing more yards than he sometimes should on stuffed plays. Think of how Le'Veon Bell's patient style worked exceptionally well in Pittsburgh, but has become a liability in New York. Kelley's yards after contact and broken tackle rate are going to suffer mightily if he is losing one or more yards on close to 20% of his runs. Some of that is on him.
He also has a tendency to "submarine." When anticipating contact he will lower his shoulders and head, which allows him to push through tacklers that hit him head-on, but it also makes him susceptible to face planting due to his own imbalance or any contact to his legs.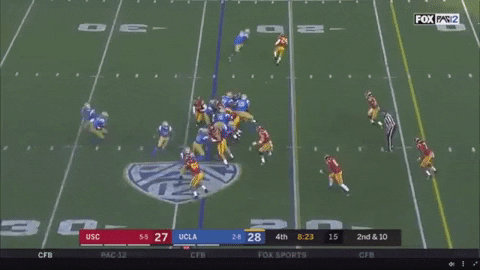 This is a nice play by Kelley, but his head is low and well forward of his center-of-mass when he meets the second defender making the tackle easy.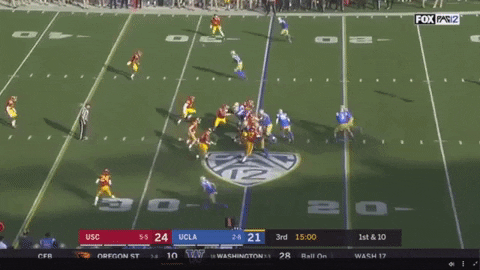 He also has a tendency to get out in front of his blockers. This next play was well defended, but he gets way out in front of his blockers and makes it easy on the defense although the offensive play call and blocking didn't help.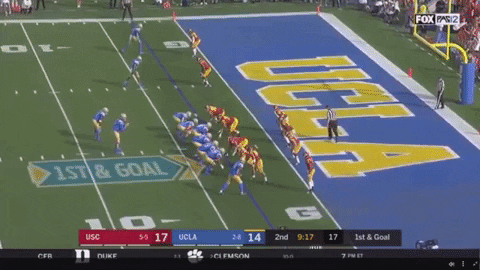 What's NOT on Tape
1. He'll grind 
Kelley went from virtually no attention out of high school to a backup role at UC-Davis, to walking-on at UCLA, to back-to-back 1,000-yard seasons as a featured part of UCLA's offense. He's used to being the underdog, which means he won't think twice about being the third or fourth RB on a roster. He'll do what he needs to improve and make a roster.
2. He made an impression at the Senior Bowl
Kelley rushed for 105 yards on 15 carries at the Senior Bowl. He also showed a positive personality that would be a welcome addition to any locker room and we've seen time and again that coaches value how players act off the field.
Fantasy Outlook
Redraft
Joshua Kelley won't have any redraft value without some crazy circumstances hitting whichever team drafts him before the season starts. He's the type of guy that will grind and grind and fully embrace the opportunity once it comes, but his late draft spot will probably ensure he starts as the third or fourth RB on a roster. Keep him in mind if he starts to move up the roster especially if he lands on a team with an explosive offense.
Dynasty
You're going to need to be patient with Kelley. It might take two or three years before he gets an opportunity to put up fantasy points, but he has three-down back potential and possesses prototypical size with sufficient athleticism. He reminds me a lot of James Conner and Jordan Howard who were better runners between the tackles, but not as athletic as Kelley coming out of college. Conner and Howard were both grinders from average to mediocre college programs that were able to earn an opportunity eventually. That's why Kelley is worth a third-round rookie pick in dynasty leagues especially if he lands on a team that likes to run option like Baltimore or Buffalo.