2020 NFL Draft Rookie Profile: Jonathan Taylor (Fantasy Football)
Jonathon Taylor is the perfect combination of college production and combine measurables. He's arguably the most talked-about running back of the 2020 rookie class. When it comes to fantasy football, running backs tend to have the most immediate impact in the league. So just how good of a prospect is Taylor? Let's dive in.
College Production Profile
[lptw_table id="162917″ style="default"]
Simply put, Taylor was one of the most productive running backs in NCAA history. He racked up 6,174 rushing yards with the Wisconsin Badgers, the sixth-most rushing yards ever recorded by a college runner. He accomplished this in just three seasons. He logged 915 yards more than Herschel Walker, who has the second-most rushing yards for a back that played only three college seasons. He increased his touchdown total each season, starting with 13 as a freshman and increasing to 16 as a sophomore before exploding for 26 total touchdowns as a junior.  
Taylor was limited in the passing game early in his career, fielding just 16 receptions for 155 yards in his first two seasons. He did see a nice uptick his junior year, totaling 26 catches for 252 yards and five receiving touchdowns.  
It's tough to be as productive as Taylor was in college without a heavy workload, which may be seen as a negative for his long term fantasy outlook. He carried the ball 926 times for the Badgers, which ranks 35th all-time in NCAA history. The only running backs with more carries collegiate carries than Taylor over the last decade are Justin Jackson (1142), Donnel Pumphrey (1059), Keenan Reynolds (977), Montel Harris (973), Royce Freeman (947), Myles Gaskin (945), Jarvion Franklin (942), and Ralph Webb (931). Not exactly a list of fantasy studs.
NFL Scouting Combine Measurements
[lptw_table id="162919″ style="default"]
Taylor was arguably the story of the 2020 NFL combine. Some questioned his speed, despite the fact that he was a two-time state champion sprinter in high school and a member of Wisconsin's track and field 4X100 relay team. He silenced any doubters by posting back-to-back 4.39 second 40-yard dashes, besting every other running back at the combine. He joined Saquon Barkley as a rare running back to weigh in over 225 pounds and run the 40 at 4.40 seconds or faster. 
Wisconsin RB Jonathan Taylor runs a 4.39 40-yard dash ⚡️

-time was adjusted from 4.41 to 4.39

(via @NFL) pic.twitter.com/hJQzw9wGtv

— CBS Sports HQ (@CBSSportsHQ) February 29, 2020
What's on Tape
This is where researching Taylor for this draft profile got really fun. As somebody born and raised in Madison, Wisconsin, I watched most of Taylor's games live and even attended a handful of his games. In real-time, it was always clear that he was a special talent, but when diving into the tape he looked even better than I even remembered
Games viewed: Illinois (2019), Southern Florida (2019), Michigan (2019), OSU (2019 Big Ten Championship)
1. He has an impeccable combination of patience, vision, and burst.
Taylor reads his blocks and the defense superbly. He ran behind a top-end offensive line with the Badgers but didn't require a massive opening to run through. He has an uncanny ability to extend his arm and "feel" his blockers set up as he looks to make his move.
When he gets through the traffic and finds his opening, Taylor plants his foot in the turf and bursts upfield. While he possesses the speed to outrun almost anybody on the field, he'd rather get north and south than race to the sideline. Once he makes the decision to get vertical he's very tough to stop…more on that below.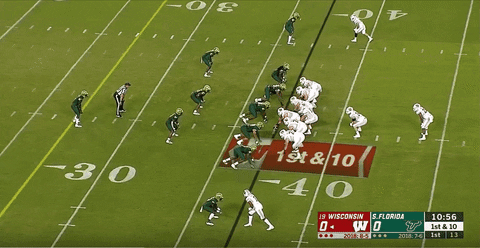 2. He's powerful.
The first defender isn't likely to bring Taylor down, especially if he has a head of steam. In the open field, he has the ability to avoid most tacklers but does not shy away from contact. He easily runs through arm tackles and is consistently seen carrying a pile for extra yardage. There were numerous times on tape that the officials blew the play dead not because Taylor was brought down, but because enough defenders eventually swarmed around him adequately impede his forward progress, despite the fact that he remained upright.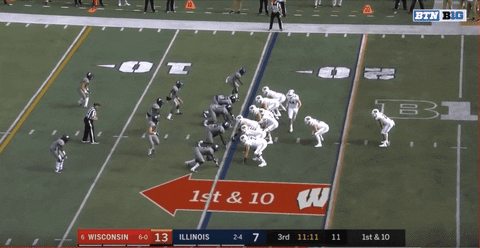 3. He runs away from secondaries.
The qualities listed above make Taylor a great running back, but his breakaway speed could make him special. He can run away from even the fastest defenders. The clips below exemplify how Taylor uses his skill set to put him in a position to turn on the jets and then win the race to the endzone.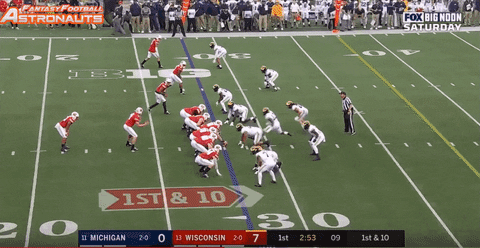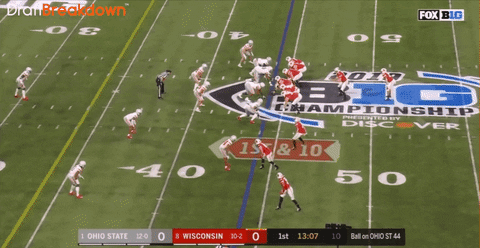 4. Ball security is an issue
In his recent draft profile of D'Andre Swift, Matthew Betz was concerned that he put the ball on the ground seven times in 43 games. Taylor did so 18(!) times in 41 games. On the tape, many of these fumbles appeared to be the result of poor ball security habits, not aggressive defensive ball stripping. Needless to say, it could be a problem at the next level. 
What's NOT on Tape
1. He's smart 
Beyond his elite physical talents, Taylor projects the intelligence and maturity that NFL teams look for when investing their top draft capital. He earned college credits while in high school and nearly chose to play football (and study astrophysics) at Harvard.
2. His pass-catching ability is still questionable.
While Taylor took a big step forward in the passing game his senior season, there still isn't enough on film to confirm he'll be a reliable passing-game option at the NFL level. That doesn't preclude him from becoming a three-down workhorse at the next level, but it's no guarantee.
2020 Fantasy Outlook
As long as he isn't drafted by a franchise that already has an established workhorse running back, Taylor will have an immediate fantasy impact. He's had no off the field issues and has no injury history to speak of. He's about as safe as it gets when it comes to NFL draft prospects. There's an awfully good chance that he's the first running back selected in the 2020 draft. He could end up as the undisputed top option at 1.01 in dynasty rookie drafts and may even be in consideration for a first-round pick in redraft leagues come August. Given the right landing spot, Taylor has a great chance to finish as an RB1 in his rookie season and for years to come.