2020 NFL Draft Rookie Profile: Albert Okwuegbunam (Fantasy Football)
If you wanted to build a perfect tight end prospect, you'd start with the size and speed of Albert Okwuegbunam. Watching his highlights conjures up memories of Mark Andrews at Oklahoma or Noah Fant at Iowa. Of course, that's just when looking at the highlights. It's a slightly different story when looking at the whole picture. Can Okwuegbunam become the kind of offensive weapon at the tight end position that fantasy football so desperately needs? 
Editor's Note: For more on the 2020 rookie class, check out all of our 2020 NFL Draft content and stay tuned to the Fantasy Footballers podcast for April's Rookie Preview show where the Ballers breakdown each position heading into the draft
College Production Profile
[lptw_table id="163033″ style="default"]
Okwuegbunam's college numbers won't blow you away. He didn't play when he first arrived in Missouri but burst onto the scene by catching 11 touchdowns as a redshirt freshman in 2017. He was inconsistent throughout his college career; he showed the ability to post massive games but would practically disappear in others. His final season with the Tigers was his least productive, though to be fair that also coincided with the departure of current Broncos quarterback Drew Lock. His stats were also hampered by the fact that he missed multiple games in both his sophomore and junior seasons with shoulder injuries, which could be concerning for his NFL future.  
NFL Scouting Combine Measurements
[lptw_table id="163034″ style="default"]
Okwuegbunam measured in at an impressive 6'5" and 258 pounds. For reference, that is almost the identical height and weight of Travis Kelce. The 40-yard dash was the only physical test Okwuegbunam participated in at the combine, but that lone performance may have been enough to bump him up NFL draft boards. 
Albert Okwuegbunam just ran a fast 40 than O.J. Howard, while out-weighing Howard by seven pounds.

What. pic.twitter.com/JZDorbUW8f

— Trevor Sikkema (@TampaBayTre) February 27, 2020
What's on Tape
Tight ends are one of the more difficult positions to evaluate on tape. As a hybrid of wide receiver and offensive lineman, tight ends are asked to do more on the field than other skill positions. The best of the best excel at both receiving and blocking (see Rob Gronkowski or George Kittle), while others tend to specialize in one skill or the other, limiting their time on the field and thus, their fantasy upside. What follows is my evaluation of Okwuegbunam after watching four full games across his three collegiate seasons.
Games Viewed: Idaho (2017), Memphis (2018), South Carolina (2019), Ole Miss (2019)
1. He's smooth and deadly in the seams.
Okwuegbunam made a killing deep down the middle of the field in college. He has no problem getting behind linebackers in coverage, often aided by play action as he released up the field. Once the ball is delivered he has no problem making the catch and outrunning defensive backs to the endzone.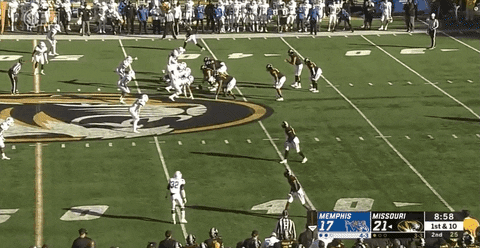 2. He has soft hands for a big man.
Through the four full games of tape I watched, I didn't see Okwuegbunam drop a single pass that hit his hands. He rarely used his body to aid the catch, instead, he regularly squeezed the ball with his hands and secured the catch before tucking it away to make his next move.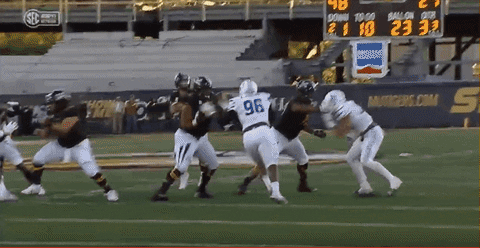 3. He doesn't play as physical as his size would imply.
For as big as he is, Okwuegbunam doesn't really play like it. I was hard-pressed to find examples of him boxing out defenders or going over the top of them to make a catch. The same rings true when he's carrying the ball. His speed allows him to run away from defenders and his sheer size has smaller defenders bounce off of him, but I wasn't able to find any examples of him running through tackles or carrying a pile for extra yards.
4. His blocking makes him a liability on an NFL field
If you only pay attention to his receiving work, Okwuegbunam looks capable of becoming an impactful NFL tight end. Unfortunately, elite NFL tight ends also need to be able to hold their own in the blocking game.
As an in-line blocker, Okwuegbunam can seal off his man or draw a stalemate at the line of scrimmage but he rarely drives his man downfield. In fact, he is often seen getting pushed back into the offensive backfield and disrupting the play. He has the size and strength that should translate to a capable in-line blocker, but his pad-level and footwork will need to improve considerably to be a full-time player at the next level.
His blocking isn't much better at the second level. He uses his size to shield off smaller linebackers or defensive backs but fails to engage them and stick to the block. His tape is littered with examples of a second-level defender shedding his block and making the tackle. 
2020 Fantasy Outlook
It's incredibly rare for a tight end to make significant fantasy impacts as a rookie. In 2019 we saw two highly-rated tight ends selected in the first round on the NFL draft in T.J. Hockenson and Noah Fant. Both showed some promise but neither produced useful fantasy seasons, finishing as the TE31 and TE16 respectively. 
Where Okwuegbunam is drafted will be telling of his fantasy prospects this season. If a team spends a pick on him in the first two days of the draft he'll have a legitimate shot to get on the field. He's a name that should be on your radar and should be drafted at some point in dynasty leagues, but he should go undrafted in redraft leagues. He has enough athleticism to develop into a quality fantasy tight end, but don't expect him to have a huge impact in 2020.