When the news broke that Marshawn Lynch was traded to the Oakland Raiders his fantasy value kinda just clicked in my mind and I watched his tape over and over and over and over and over and over. Lynch is headed home to Oakland which is bringing excitement to the fantasy football community and especially Lynch.
Lynch is very excited to play for Oakland, but can fantasy owners trust a player coming out of retirement, who is 31 years old, and has 2,396 career touches?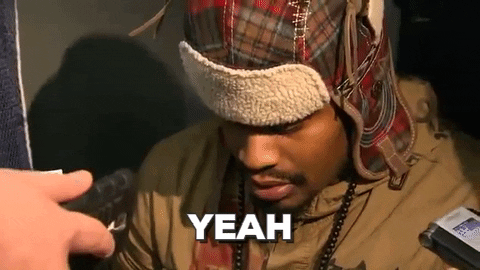 What's On Tape
Of course, because Lynch didn't play in 2016, the following film examples are from the 7 games played during the 2015 season.
Speed/ Agility
When going through the film I wanted to see if Lynch lost a step or if he lost the burst and balance he once had. The game that showcases his speed and burst the best from 2015 is Week 7 against the 49ers. He was able to break four runs of 10 plus yards. Luckily Next Gen Stats was able to put a number to Lynch's speed and he reached a top speed of 19.02 mph which tells me he hasn't lost the speed.
Acceleration
Lynch has always had great acceleration for his size. His ability to hit the hole and punish anyone who tries to meet him head-on has made Lynch a successful runner. A great example of his instant burst is this highlight.
Power/ Strength
Now to the fun part. There is a reason why Lynch has the nickname BeastMode. His ability to punish defenders and showcase his power is fun to watch, (it's even better in slow motion.)
In this first run, he shows his incredible balance and shiftiness with a jump cut and drags the Cardinal defenders for a few extra yards. 
Power and so much determination on this run. Lynch was stopped at the line but instead of running into his lineman, he uses a quick spin move, lowered his head and kept his legs churning running through the faces of the Rams defense. There is no way a man with a bad back would be able to carry an entire defense on his shoulders.
If those runs don't highlight his power enough then maybe 5,645 career yards after contact might.  Just think about the fact he averages 44.5 yards after contact a game. The best way to express his running style is this quote by Lynch "I know I'm going to get got, but I'm going to get mine more than I get got, though." I think it is safe to say we can all agree with that statement.
Projecting 2017
Lynch landed in one of the best spots possible with the Raiders. Last season Oakland rushed the ball 434 times or 11th most in the NFL.  The Raiders also finished 6th in rushing yards (1,922 ) and tied for 6th in rushing touchdowns(17).
It isn't a secret the Raiders have one of the best offensive lines in football. The better news for Lynch is the Raiders offensive line matches the style of runner that Lynch is.  In 2016 the Raiders offensive line averaged 2.17 yards before contact on runs up the middle which was the fourth best in the NFL.  In 2015 Lynch averaged 4.5 yards per carry on 44 attempts on runs up the middle.
All those numbers are great but Lynch struggled with injuries in 2015 and isn't exactly young for running backs at age 31. Last season, 175 fantasy points is what it took to finish as a top 12 running back in 2016. Since 1990, There have been 13 instances where a running back 31 years or older has scored more than 175 fantasy points. The most recent are Frank Gore in 2016 and DeAngelo Williams in 2015. Will Lynch make it three years in a row?
I will go on record now and say if he plays more than 14 games, Lynch will be a top 12 running back in 2017. Some may be afraid to make that prediction but I'm just bout that action boss.
Be sure to check out the rest of our NFL Film Breakdowns.